Free Fall
2013, German, 100 min
Stars: Hanno Koeffler, Max Riemelt
Director: Stephan Lacant
Rating: ★★★★
Nothing really new here, but has a great soul with great performances by the actors, a good script and beautifully directed. Feels naturally filmed, about a thirtyish police officer who falls in love with a male co-officer and the repercussion of his indecision.
I watched a very interesting German movie tonight called Free Fall and it kind of took me back to a period in my own history I had forgotten. The story is about a thirtyish police guy who seems to have everything going for him in life. A girlfriend who is pregnant, a great job he seems to enjoy, hanging out in a very macho sort of world. He meets this other dude he works with and they begin to have a pretty hot affair, until his world becomes capsized by the complications of not sure how or where this sort of alternative lifestyle fits into his actual world. Yes it sounds like lots of other movies of this nature. Everything about it was very naturalistic. But I guess what caught me off guard and surprised me was how complicated the emotional entanglement actually became for the characters. Sure we have seen these types of stories before and in a sense there really was nothing new here. At first it kind of struck me as being maybe over used. I suddenly began to see how much we really have evolved over the past 10 years. This would have been heart-wrenching piece about 15 years ago. It got me questioning how much relationships have evolved over this time span.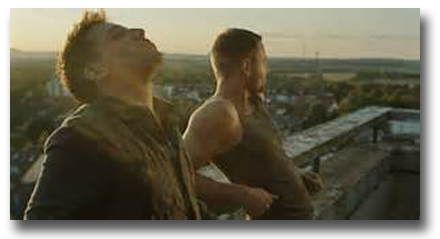 Would two guys really fall in love and have their inner worlds torn apart? It seems these days perhaps we have all become just a bit too casual in these sorts of affairs. It seems commonplace to be accepted as gay and totally cool for a dude to be with another dude while the girlfriend is torn by suspension. At guess I thought in modern terms she should have invited her boyfriends dude friend over and they could have had a great open three-way relationship. Seems the most sensible solutions when three people are passionate about each other… I digress!
I actually quite fell in love with the movie. It was beautifully filmed in a very naturalistic sort of way. The guys were both stunning in a realistic way to watch, and everyone was a great actor. The directing and script had beautiful moments. It awakened in me a part of the old fashioned romance I actually miss. The scene leading up to the dude to dude encounter were filled with such conflict, uncertainty, and self doubt that it stirred a remembrance to how love used to be. I found myself being drawn in deeper and deeper with its coy sort of unpredictability. It somehow made it all real and relevant. Over all I loved this movie, it is a beautiful piece of cinema and will linger in my thoughts the next couple of days.