The Adventures of Priscilla, Queen of the Desert
1994, Australia, 104 min
Stars: Hugo Weaving, Terence Stamp, Guy Pearce
Director: Stephan Elliott
Rating: ★★★★★
This is a hilarious road trip of a movie that, once it snags you, takes you on an often-outrageous adventure through the Australian outback. Filled with charm, wit, style, and memorable music from the 80's as it's three central characters find more than they bargain for in themselves and each other. Guaranteed to make you laugh so hard your eye lashes will curl all by themselves.
This is one of those movies I put in when I am feeling down and it always brightens my day. I probably watch this movie a couple of times a year and have been since it came out and it totally cracks me up every time I see it. I always recommend it to the younger crowd and it amazes me how many of them have never seen or have ever even heard of it. So, though it is an old stand by for many, it is a surprising sleeper if you are not familiar with it. It's basically about three performers from the Sydney cabaret circuit who go on a road trip across Australia in what they christen a budget Barbie Camper they call Priscilla.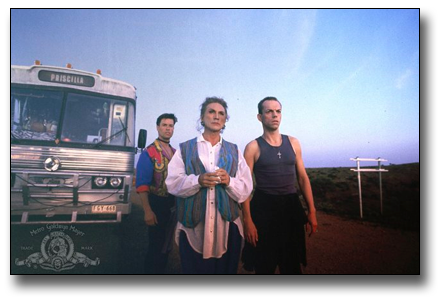 Two of them drag impersonators one a cosmetics salesman (Hugo Waving) and a spoiled youthful beauty obsessed with ABBA (Guy Pearce) and the third a post operative transsexual (Terence Stamp) who has just lost a sympathetic husband she has finally managed to snag who hits his head after passing out from the fumes while trying to peroxide his hair. The deadpan humor of this brilliant script is nonstop. As many times as I have seen and anticipate the dialogue it still makes me laugh. These three actors play so well off each other along this crazy road trip to unexpected places warming their way across the outback as they make their way from Sydney to the remote Alice Springs. It is filled with stunning musical production numbers and some of the best makeup and costumes in the history of film, going on to snag an Oscar for best costume. The film is often touching with a good balance of drama and over the top humor. All of it's actors catapulted into stardom. It later became a long running Broadway musical. It is a classic that once you see it you will come back to over and over.