Velvet Goldmine
1998, British, 124 min
Starring: Ewan McGregor, Jonathan Rhys Meyers, Christian Bale
Director: Todd Haynes
A visual romp through the world of 1970's glam rock, where anything can happen and often done. It's Citizen Kane sort of story structure leads to unpredictable places often spiraling out of control. A stunning film to watch with a great sound track but often loses its way along the journey. Overall very fun to watch with these three great actors: McGregor, Rhys Meyers, and Bale in their youth giving powerhouse performances and often naked.
Rating: ★★★★
Written by Elizabeth Lister
I believe I was in my late teens when I discovered my older brother's David Bowie albums that he'd left behind when he moved out of the family home. David Bowie rocked the world with his avant garde appearance and music in the 1970s. One of his earliest albums, The Man Who Sold The World, features him with long hair wearing a dress on the cover.
I've always loved this image. I think he looks gorgeous and sexy and in your face original. His early music was that way too. Space Oddity, Hunky Dory, and The Man Who Sold The World are my favorites. Once he hit the eighties, his music and look became much more mainstream and, to me, boring.
Iggy Pop, a punk icon, in his early days brought a dangerous and sexy energy to the music scene.
The movie, Velvet Goldmine, was written to portray the early careers of David Bowie and Iggy Pop. Written by Todd Haynes and James Lyons, starring the beautiful and talented Jonathan Rhys Meyers and Ewan McGregor (as well as Toni Colette, Eddie Izzard and Christian Bale), it is a lyrical exploration of the rise of glam rock and more permissive attitudes toward homosexuality and bisexuality among 70's youth. Jonathan Rhys Meyers is outstanding as Brian Slade (Bowie) and Ewan McGregor displays a raw, explosive energy as the unstable Curt Wilde (Pop).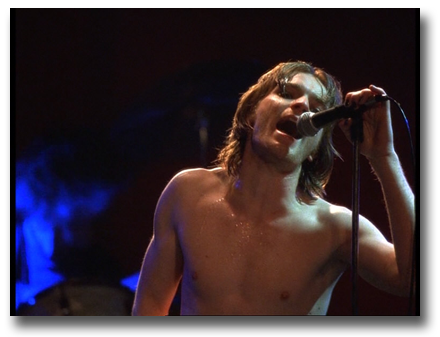 Together, they evince a tender and sensual attraction to each other amidst the excitement of emerging pop careers. When things go downhill and reality intrudes, the bittersweet endings are portrayed with a genuine regret and confusion. This is paralleled by the more conservative commercialism that came into play during the eighties and wiped out the boundary-pushing experimentation pervasive in the seventies.

For anyone who enjoyed the glam rock explosion or who gets a charge out of seeing two gorgeous and gifted actors portray androgynous bisexual lovers, this movie is a must see. Overblown, lyrical and romantic, it is not to everyone's tastes. But it remains one of my favourite movies. The soundtrack alone lifts it above the ordinary and features the voices of the actors themselves on many tracks. I highly recommend it as well.