Gregg Friedberg grew up in Columbus, Ohio but for many years has lived in Upper Sandusky, a rural county seat, and nowadays spends half of each year in Guanajuato, Mexico where he participates in the bilingual arts-and-culture scene and gives regular readings.
Professionally he's been a partner in a computer software company, writing applications for Ohio county government, but has always written poetry, is happiest when writing sustained sequences, loosely but not conventionally narrative, treating a matrix of themes from an evolving perspective.
An example is The Best Seat Not in the House (Main Street Rag, 2010) which examines the vexed relationship between Creator and creature, whether God and man or author and protagonist.
In What's Wrong, a longer sequence, the first-person narrator is a refugee from American marketing culture.
Friedberg is completing a collection of photographs with corresponding texts, The Artist's Reception, the result of the black-and-white figure photography project he's been working on the past several years. The texts, which also tell a story, incorporate some of the wittier comments that have been posted with the photos at the art site deviantart.com. Excerpts have appeared in the art magazines, Noisy Rain and Vitruvian Lens.
And for the past ten years Friedberg has been a member of Frank Bidart's summer workshop at Skidmore College.
This email address is being protected from spambots. You need JavaScript enabled to view it.
Interview with Gregg Friedberg:
Where are you?
I live half the year in Upper Sandusky, Ohio, a rural county seat, and the other half in Guanajuato, Guanajuato, a colonial town on the high plateau of central Mexico and a center for culture and arts.
Who are you?
A poet, and – to the extent to which these and others of my photos justify the claim – a photographer and model.
What kind of work you do?
I'm an "emeritus" partner in a custom-computer-software firm that writes programs for Ohio county government: a spectrum of applications from, for examples, real estate valuation and taxation to the common pleas court scheduling, docketing, and accounting.
Are you a full time artist and create all the time?
Nowadays I try to be, but lately have been concentrating on revising past work, waiting for the inspiration needed to embark on something new.
What compels you to photograph male nudes?
Through most of my life, it never occurred to me. Then, one day, browsing books of dance photographs, I came upon the photo by Annie Leibovitz of David Parsons nude, dancing. It induced an epiphany: the sudden need to be the subject of one such indubitably memorable, beautiful photo – absurd inasmuch as I had no pertinent credentials! But the desire persisted, and an occasion presented itself to try: a photographer friend suggested I pose for him. A couple of years later, when he moved away, I decided to continue on my own. The photos in this selection are all from this latter phase, which is to say, self portraits.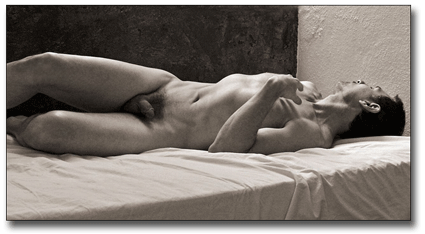 Do you work in other mediums?
Much of my creative energy and attention goes to poetry. I'm happiest writing poem sequences: very loosely narrative, treating a matrix of themes from an evolving perspective. There too the homoerotic importantly serves as inspiration, so for me poetry's another 'medium' for communicating the emotion, psychology, and aesthetics of the male nude.
What are some of the obstacles you have or had to overcome to become a creative soul?
Having to meet "creature" needs requires a lot of time and energy, and I've never been good at "partitioning" the day. So for many years my best energy went to creating computer programs rather than art.
And even now, when I myself (mostly) am in charge of how my time is spent, I find that – very unfortunately – my muse often does not cooperate, and then I'm better off not even trying to create new work. So then I direct my attention to past work: revising poems or refinishing photos.
What would you say is your style or approach to your imagery? (you seem to use a lot of natural light in the things I am seeing)
I think my style shows forthrightly the influence of dance and traditional figure drawing, painting, and sculpture. My concern's always been primarily the poses, their translation into two dimensions: lines, proportion – and body language, especially the expressive potential of the limbs and hands, over that of the face. And – related, I feel, to this matter of expressiveness of the body, how it arranges itself in space – I much prefer natural light.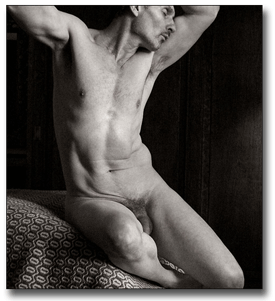 What has influenced you the most? Any particular person, body of work, art movements.
True to my original inspiration, dance photography, for me, continues as the greatest influence:
grace of line and proportion as translated into the two dimensions of a photo.
What is your personal connection to the erotic side of this sort of imagery or subjects.
I've always felt – and identified it with antique Greek sensibility -- the erotic appetite as the great exhilarator. It's never been morally vexed for me in the way that it is for American culture generally, which cannot leave off demonizing it.
The sensibility that celebrates and refines it is, I think, characterized by grace and strength, and a vision of the perfect, the glorious – utopian even – and so runs the risk of becoming conventional and bland. But then to be abidingly interesting any art must involve a secondary essence of a nature at least somewhat "contrary" to the first. For me and my work, it's spiritual gravitas, the central drama of the human condition: you can be good 99.99% of the time, but as you soon as you lapse (which is assumed inevitable – a given), only the lapse counts: as in the Garden of Eden and Greek tragedy.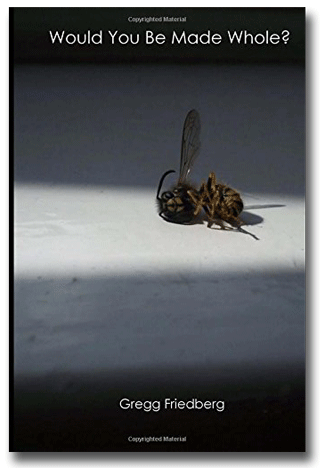 After the Party
The boy unbuttoning, shrugging off his shirt,
getting ready for your bed is only your
lamplight shadow. The hands at your belt
buckle are only yours.
In your mind's eye
and ear: the sultry dancing, frothy fawning,
a stubbled throat, larynx flirting . . .
between
his pantcuff and slouched sock nakedness
you couldn't stop your eye returning to—
a boy, like you . . .
why do you burn to possess
your double? You were sure you'd betray
yourself if you stayed longer.
Now you're
free to stare, stroke that exposé of leg,
slide your fingers up the pantleg to
the mounded calf, have your way with him.
from Friedberg's recently published collection WOULD YOU BE MADE WHOLE?
www.amazon.com/Would-You-Be-Made-Whole