"My work is a reflection of my thoughts as I make sense of the world around me. They are my notes as I navigate through. They are part of a process of releasing my sense of self and finding what is beyond my limited thoughts. To me, there is something about the beauty of the human figure that stimulates contemplation of life's deepest mysteries and stories."
~ Jim Ferringer
The first time I saw Jim Ferringer's work I was utterly riveted to his imagery. I contacted him online because I felt I needed to be connected to this artist in some way. It was almost like he could read my thoughts in his process of creation.
In my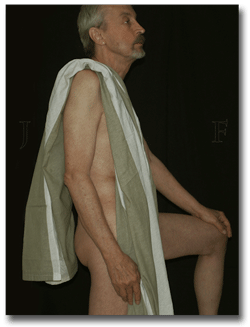 early work of the male figure I was constantly trying to place my subjects in a world of decay that he captured brilliantly. As a gay man living through the AIDS epidemic it seemed the world around me was fractured, crumbling on the verge of chaos. The male figure seemed to lose its potent allure as I saw friends around me become fractured, their health fade, and many of them disappear into oblivion. What was once beautiful and filled with mystery became tainted and my own perceptions of the culture around me became distorted. Some of the allure was still present but the erotic became tarnished as people become despondent in their interactions with each other. Sexual interaction now needed to be approached with a certain amount of caution.
I could not quite put my finger on what drew me into Jim's work in the beginning, but as I contemplate and study his images this notion of deconstruction and reconstruction becomes clear. I see myself in Jim's work, his process, and in his deepest expression.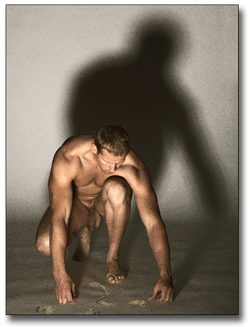 Jim has become one of the most significant artists of my era. I am constantly bemused and bewildered by what I see within his work. It seems every issue we touch on becomes a direct mirror of myself and my own process of creation. We both have a passion for art history, the male nude form, gardening, cooking, and self-examination. When I began to question him for this project, it was as if every phrase he gave me was a thought of my own.
"I am fascinated and in love with light. It's what draws me to the art of photography and what I strive to capture in my imagery. To me the art of manipulated photographs is the ability to see and paint with light and combined images. Through the manipulation of images and the overlaying of textures, most of my work ends up looking like paintings. I am captivated by the beauty of men, all men, and have embarked on a journey to explore that in my current imagery. These manipulated photos explore the world of the beauty of the male body and soul. My work is a reflection of my thoughts as I make sense of the world around me. They are my notes as I navigate through. They are part of a process of releasing of my sense of self and finding what is beyond my limited thoughts. To me, there is something about the beauty of the human figure, which stimulates contemplation of life's deepest mysteries and stories." ~ Jim Ferringer
Now I see why I am so enamored of, and drawn to, his work. Some of the images are allegorical with classic references to most every period in time, often shrouded by mystery and seduction. They reconstruct the history of time to include the beautiful mysticism of the nude male form and its sensual nature. He reveals what has remained hidden or possibly destroyed through the course of its evolution, giving us the iconic and mythic characters throughout history; Apollo, Theseus, and Brutus about to slay Ceasar in the Ides of March. Each image breathtakingly approached with humor, dignity, and honesty to become a modern masterpiece based on traditional thoughts or concepts. Like the metaphorical naked man hunched as if he were an ancient tracker, his shadow looming far above him as he follows a trail of used condoms in the foreground of his work He Was Here
~Terry Cyr, 2011
Terry: There is such a mystery to your images; they are tantalizing, seductive, and alluring. I have searched you out across the Internet and I've seen how extensive your body of work truly is. I have been observing your work for a long time and I am drawn to your process of creation. I only recently realized that some of your pieces are collaborations with other artists.
Do you feel we are truly born with a gift or is it actually cultivated? What has been your experience regarding your evolution as an artist on this issue?
Jim: I live in Indiana and it is not the hub of activity here either. I believe we are born with it, at least for me. I always knew that was the only thing I ever wanted to do for as long as I can remember. I have been consumed by art always. I Have my B.A. and M.A. from Purdue University. It is known for engineering and agriculture but I got a good education in art there. The gift I received was enhanced and enlarged there. Thirty-five years in the studio taught more........I started out doing 3D work out of school. I spent a number of years doing mixed media construction. I also spent a lot of time just drawing. The 'Constructions' took a lot of time - I was lucky to get ten done a year. Drawing was very spontaneous. I guess the final answer to your question is that art is a gift that can evolve into a pure form of self-expression of everything.............
Terry: What is your system for working on an image? I know sometimes you combine the images of several pieces as one for a very brilliant impact. Do you have a concept for the piece or does it just evolve as you see things begin to emerge?
Jim: I am using Photoshop CS3 to do the manipulation of the images. I am always collecting images that I want to use in my work. My camera, my trusty Nikon, is one of my favorite things. When I am working on the computer (I use a Mac!!), if I need something special I often grab the camera and run out to capture images. I am a hard-core collector of everything so often I can rummage around the house or studio to find what I need to photograph. My father once joked that if they made more than two of anything I'd collect it. I love to photograph old buildings, broken concrete, cracked plaster, and all things considered urban decay by many people. The concept for the work most times pops into my head when I see a photograph, often there are so many I have to limit what I will do.
Terry: What are you looking for in an image when you begin the process? Are there certain elements that draw you in?
Jim: Living in conservative Indiana, finding models for my work has always been the most difficult part. That is why I started contacting photographers and models to see if they would be interested in doing a project together. At first it was very difficult to find people to work with but time and a body of work has helped. It has become easier now that they have had a chance to see what I do. When I see photos that I would like to try to manipulate I just write, introduce myself and explain what I would like to do. I have been very, very lucky to have a chance to work with so many outstanding artists/photographers. I use work they have done and some of them create photos just for what I need. It is really an honor to have had a chance to work with so much talent. Sometimes I will see a photo that a model posts and I'll write them asking how to contact the photographer.
Terry: How do you approach other artists to begin the collaboration process? Can you describe the process of working with other artist's images and dealing with other artists in the process?
Jim: I have been very lucky to work with a wide range of photographers. To name a few is very difficult. Jan Griffioen, R.O. Flinn, Wayne Talbot, Marc Armytage, Tom Silk, Andrea Aste, and so many others. Some photos I do take myself. I can only say I am very lucky to have had these opportunities.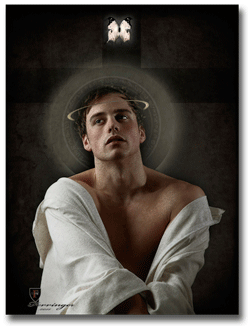 Terry: What does a final image look like when it's completed? Do you do your own printing? Any recommendations on printing services if you have others print them?
Jim: The finished work has always been printed on paper but I just discovered printing on aluminium. The printing on aluminium is awesome - it has the same luminosity that the images have on the computer screen. I do not do my own printing - I leave that for the experts. The art is the most important part for me. My friend Jan Griffioen was the one who told me about this process. Jan is an amazing photographer in Amsterdam and we have done a lot of work together.
Terry: So many look like paintings, are they printed as such and displayed or sold in galleries?
Jim: I show my work currently at two galleries. Gallery Hertz in Louisville I have been with for over twenty years. Billy Hertz has shown my sculptures, my drawings, and recently my photo work. Billy is a great supporter of the arts, an artist himself, and a good friend. The gallery is wonderful and the gardens by Tom Schnapf are awesome. The gallery is located in Louisville, KY at1253 South Preston Street (502)-636-9722.
The newest gallery I am with is Vitruvian Gallery at 734 7th St. SE, Washington, DC 20003, (202)-670-4897. I had a solo show there in December. Larry Hall and Jack Cox, owners of the gallery, are two wonderful people and made the show and visit to DC a trip to remember.
Terry: I see so many classic references to images, styles, paintings, and art and it seems to be ever-changing with a vibrant freshness for each piece.
Jim: I have a deep love of art history in my life at this point. When I was a student I think I slept through most of my art history classes, something I regret very much now. I find inspiration in almost every age of history, from the art of ancient Greece to the most contemporary. From ancient Greece to Caravaggio to Jacques Louis David to Cy Twombly I get inspiration. I think there is magic in every period of history. I do have a weakness for the 18th century.
Terry: Your work is filled with an appreciation for the beauty of the past but shows a strong connection to the present and future. What are some of the other passions that help you remain so grounded?
Jim: When I am not working on art my other passions in life are gardening and cooking. Both of these allow me to express other creative outlets. I am currently creating a new garden after building a new home. My old garden had twenty-nine years of my attention. It was not difficult leaving the house but it was very difficult to leave that garden. I was helped there by two artist friends of mine, Michelle Castro and Rod Heckaman, and it had so many good memories.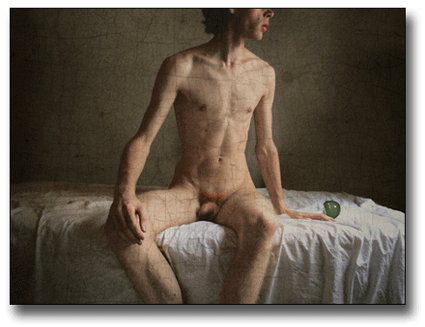 Martin Brant consistently features Jim Ferringer's images and has written about him extensively in his blog Enlightened Male 2000. This is an excerpt from his blog:
"Are male nudes really art? Are men as aesthetically pleasing as women? What about those penises and dangly bits you have to contend with? We've all heard these old clichés and diatribes. Jim Ferringer puts the question to rest with his photography, his instinct for beautiful male images and his amazing creative ability to manipulate pixels.
No rational person can view Jim Ferringer's work and not come away with a redefined perspective of nude male art. Men are one half of humanity, a mutually complimentary part that, when combined with the other half, equals the whole. No one doubts or questions female beauty. Jim creates images that urge us to appreciate the masculine side of the equation.
What is our most compelling ambition in life? What comprises our endless fantasies and dreams? What is physically and mentally associated with our most basic need? For virtually all of us it's the need for a companion, a partner in life, and for many of us that happens to be a male. Jim Ferringer's images explain why.
Using his own photography or that of other photographers, Jim goes to work adding, subtracting, moving, remixing and manipulating pixels with his own unique style until the finished work can be construed as nothing short of original art."