Joe is a Glasgow, Scotland based artist who began his professional life as an interior designerbefore starting to paint full time at the end of 2005. His artwork has been published in several art books and has been used to dress television sets including Sony Television's "Franklin & Bash."Having studied design in Glasgow for four years in the late eighties, following a successful career in corporate interiors, Joe decided to concentrate on what he really loved and began painting full time in January 2005.
Joe's work seems to meander through a variety of different styles and methods, but he now concentrates mainly on figurative pieces in oil and acrylic. "I used to find attending life drawing classes really exhausting. The concentration needed was quite intense. Many of my female and male art have started off as life drawing sketches. Many others have developed from photography. We all relate to the human body and to portraiture.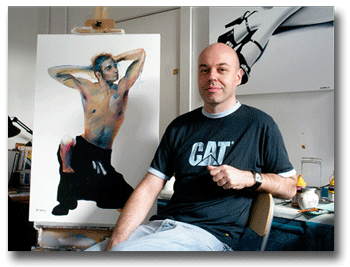 Male art or figurative male paintings and drawings have formed a substantial part of my portfolio since 2004. Creating an artwork around a male subject is interesting. I try to leave cultural preconceptions aside. This was difficult at first. I used to approach male and female figures differently. Female artwork would be soft and gentle whilst I would create male paintings, especially male nudes, in a more painterly harsh fashion. This has somewhat reversed over time. My latest males portraits and nude male drawings are created in wax and oil based media which gives a soft atmosphere to each piece. Then of course, there is the artwork featuring men wearing kilts. Being Scottish, I feel I have a right to paint kilted men. If the kilt doesn't quite happen to be fitting properly then it just adds to artwork! I hope you enjoy browsing my Male artwork gallery."
Interview with Joe Hendry:
What draws you to create images based on the male nude form?
Drawing and painting the human form is a core part of teaching in art schools. I think it is something that never leaves an artist. It is a discipline which is much more challenging than creating a landscape painting for example. I paint both male and female figures. I used to approach them differently but I think this was due to social conditioning. I have turned my back on this idea and now paint and draw male figures in much the same way mentally as I would a female figure.
I first painted a male nude after seeing a fantastic photo on Myspace. I wrote to the guy and asked if I could use his photo to create a painting from it. Thankfully he said yes. The way the light was hitting the guys back was fantastic. It made the muscle definition evident without being excessive and I just had to try and recreate it, bringing my own emotion to the painting.
How does your work co-exist with your own sexual/sensuality? What is the personal connection?
I guess this is something that is subconscious for me. I love trying to capture masculinity in an artwork. My work is not overtly sexual. I would much rather paint a naked back and let the viewer find sensuality in that than paint what are (for me) much more obvious nudes. I connect personally to all my artwork. That is what art is all about. I am quite a private person and I don't see my artwork as a reflection of my entire being but perhaps just aspects of it. This includes my sexuality. Unless I am having sex with someone then I don't see my innermost thoughts as any of their business! Perhaps an artist's work is an insight into their private self in some instances though.
What is your creative process when beginning a new piece?
There has to be an initial spark. It may be someone I've met or just an idea that I want to turn into an artwork. Sometimes I create a sketch but more often than not I begin straight onto canvas or paper. Rarely does what I see in my head initially resemble a finished piece. I tend to go on meandering journeys. I used to fight this but now I just allow it to happen. As a result of the way my brain works, sketches can turn into finished pieces. The artwork "Man Enough" for example started out as a simple sketch. I couldn't stop once I had started and the sketch turned into a fully fledged artwork that took over a month.
Something else that I have noticed really affects my process is when you are spending time with a model or sitter. There is obviously a lot of time to chat. Sometimes I sketch models and sometimes I work from photographs. I began to notice that if a model had told me they were going through a tough time, this would show up in the artwork somehow. Rather than fight this, I started to embrace it.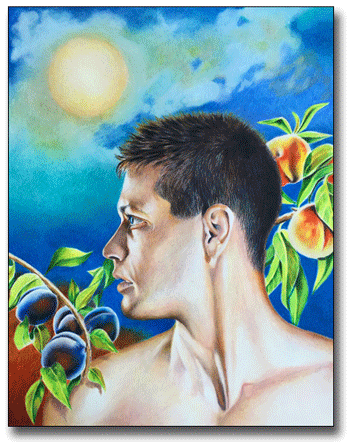 I love your ability to work is so many different styles, what was the process of the evolution of your work from one media to another?
I think this also reflects my brain and the way it operates! Although I don't talk about it much, I do not have a neuro-typical brain and I think is the reason for the various "styles" in the past decade. My background is in design and I think that this shows through in my early paintings. As I experimented I started to force change. However, when organic change happened, perhaps through "happy accidents" I believe this is when I had the best results.
Much of the different ways of painting and drawing are dictated by mood or a need to pacify my head and what is swirling around in my mind. I go through periods where I love to splash thick, juicy paint around or create big rough pencil marks. At the moment, I am in a much more reserved "tight" drawing phase. I embrace it all. So long as I am creating I don't mind.
When did the move happen toward the male figure and what prompted it?
I have always drawn and painted figures. After painting a man (almost) wearing a kilt, I started to create more male artwork. I think part of this was because of the reaction. It was fascinating to hear some people describe the artwork as "cheeky" or "humorous" whilst others thought it was slightly erotic. Just because you see a naked bum (fanny to those of you in America!) it doesn't mean it's erotic. It all depends how an artist uses shape, depicts light and represents a subject. All these elements are important in creating the final artwork. I continued to create kilted figures for various reasons. Firstly, I am Scottish so I believe I have a birthright to do so! Also, guys in kilts look great and I love tartan.
An interesting point of note is the people who have collected nude or partially nude artwork from me, especially the semi-naked Kilties, I was once asked if it was all gay men who bought them. It certainly isn't. I've had my artwork collected by gay men, women and also straight men. Some of my semi-naked male art hangs in hotel foyers. If I am bridging some gaps here then I think that is a positive thing.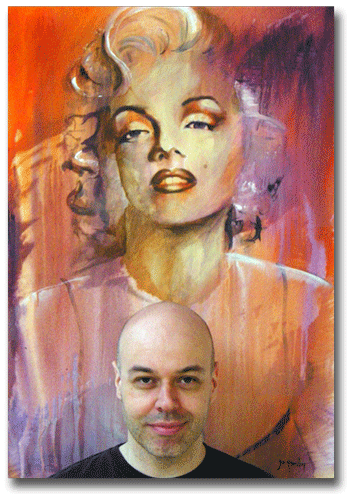 Do you find any resistance to doing this sort of work? What would you say is the greatest barrier to working on the male nude figure as an artist, if any?
To answer this, I would have to say that these days I paint and draw for myself. I try not to have barriers. Once I painted two naked figures embracing for an exhibition to raise funds for HIV research. The gallery was visible from the street and the curator asked me to hide the genitals! I quickly painted a huge red cloth swirling around the figures and covering the genital area. It was very shadowed and it was not very revealing but I hid the offending body parts to comply. At the launch night I really felt that I had compromised my art. I hated what I had done and I would never do such a thing again. It is upsetting that nudity is seen so negatively. I think some of the Scandinavian countries have a much healthier attitude to the naked body. I think that it is much more disturbing that we expose our children to violence and brutality. It is absurd to think that nudity is corrupting in any way. Some people have a very strange idea of what is appropriate and what is not. It's not like we are born clothed!
Male nude figures are more challenging to some people and I think that this is because traditionally in the western world, censorship was applied unequally for decades. It's as if the penis is a threat to society. I believe that people who think penises are a threat to society are more of a problem.
Much of my male nude pieces don't focus on genitals anyway, they focus on the overall person. Men can throw such great shapes. Women do too of course but in a different way.
I hope that some of my art challenges stereotypes in that some of my tough looking masculine figures are in vulnerable poses. This sometimes makes people uncomfortable but that is not a barrier for me. Anything that makes people think has to be positive.
I don't particularly need my art to challenge people. I think that other artists are better at that than I am. It is enough for me if my artwork makes someone smile, feel a little pleasure or even just brightens their day somehow. I've only ever had a couple of bad experiences. One was when a gentleman was visiting my studio with his wife and told me that he thought a piece of my artwork was "absolutely disgusting". It was a nude male figure with just a little amount of pubic hair showing near the bottom edge of the canvas. I made sure that by the time he returned with his wife to collect her commission, I had thickened the bush up quite a bit. He didn't say a thing but as they were leaving with his wife's landscape she said that she loved my "hairy man". He didn't say a thing but it was one for artist / wife nil to the homophobe!