I first become aware of Paul's work several years ago when I become a member of the Red Bubble site. I had just begun to show my images for the first time and was looking for others with a similar artistic bent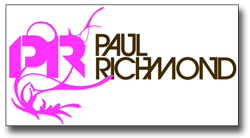 . Paul's work immediately struck me because they were so filled with a humor I could identify with. He had developed a series he called "Cheesecake" which was a vivid throwback to the nostalgic pin up styles we had become accustomed to seeing. Typically these types of images were shown with women in these sorts of manors; for instance the old horror movie classic where the woman is being terrorized by some menacing creature. Paul seemed to somehow substitute gay men into these rolls and unknowingly, and somewhat innocently, seem to be loosing their pants. I found these sorts of images quite hysterically funny as this was the way I always wanted to dream of within my own youth. They had such a playful cartoonish edge to them that was utterly captivating.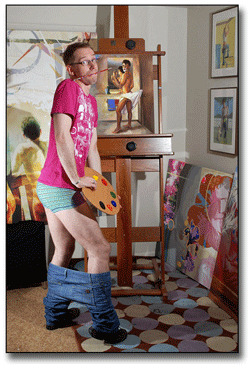 After graduating from Columbus College of Art and Design in 2002, Paul Richmond illustrated children's books, concert merchandise, a nationally syndicated comic strip, a greeting card line, and a variety of large-scale murals. Only after coming out of the closet shortly thereafter did his fine artwork become a vehicle for exploring and understanding his own journey and developing a dialogue with other members of the LGBT community.
Paul describes his concept and the emergence of his style in his artist statement:
"My work is an exploration of sexuality and identity through narrative painting. I draw inspiration from my own experiences as a young gay man from a conservative environment to break down the social constructs that exist around sexual orientation and gender roles. Through colorful, illustrative, and some times humorous paintings, I expose the grey areas that become overshadowed by black and white moral codes. By employing the visual communication techniques of graphic design and illustration, my work is bold yet inviting with apparent underlying themes. It invites viewers of all origins to make personal connections with the imagery that I've employed to tell my story and encourages them to question conventional ideas that disregard the value of their individuality."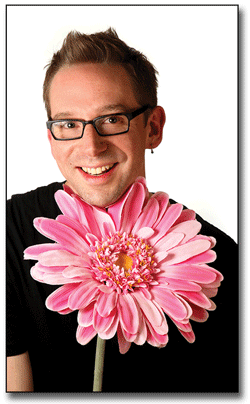 "My Cheesecake paintings put a long overdue twist on classic pin-up art. I'm interested in challenging traditional gender roles that have been reinforced by artistic expressions of sexuality in the past. It intrigues me that it was almost exclusively women who were depicted as hapless victims of skin-baring circumstance, such as the pin-up girls by Gil Elvgrin and Art Frahm. Those ladies couldn't even walk down the street without their skirts blowing up or their underwear falling down (or both!). Meanwhile, male pin-ups by artists like Tom of Finland were generally afforded more control over their sexy shenanigans. I believe gravity and other forces conspiring to rob people of their clothing should take an equal-opportunity approach. Therefore, the models for my Cheesecake exhibit are all men; including gay male celebrities from various artistic arenas of pop culture including actor Jesse Archer, photographer Mike Ruiz, musician Ari Gold, and blogger Perez Hilton. Each figure is shown in the midst of a revealing and "accidental" wardrobe malfunction, struggling to gather his aplomb and his pants without ever losing his cool."
Paul Richmond's paintings have been displayed at venues including the World of Wonder Gallery, A Bitchin' Space, BoMA: The Bar of Modern Art, and the Columbus Museum of Art. His piece Remembering Tammy Faye was unveiled to celebrity guests at the late televangelist's memorial celebration, and he helped organize a successful benefit for GLBTQ youth in association with his recent solo exhibition Ins and Outs. Richmond's work can be seen in the erotic art anthology Stripped Uncensored, published by Bruno Gmünder, as well as 100 Artists of the Male Figure by Schiffer Publishing. He lives with his partner Dennis Niekro and their two whippets in Columbus, Ohio.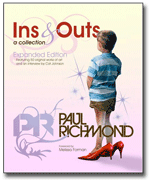 His book contains some of his most personal, narrative works arranged in chronological order by the period of his life represented. It documents the journey of a Dolly-idolizing, repressed gay boy as he finds his way out of the closet and into a place of self-acceptance. Accompanying each piece is a description by the artist, explaining the thoughts and emotions behind it. The result is an intimate, visual experience, one that will draw on the viewer to recognize the beauty of discovering and developing their own authentic self, regardless of sexual orientation.
This expanded edition features 50 pieces of art, including Paul's Cheesecake Boys series, novel cover illustrations, and a new interview by Cat Johnson.