Sebastian is a Mexican born painter who eventually migrated to Spain. To follow his paintings is like being taken on a journey through the intimacy of his life. His work, an evolution of style, and movement of technique are personal and chronicle the ups and downs of his struggle and search for identity for love and acceptance as a gay man, as an immigrant in a foreign world, and as an artist. Extending a range of emotions from elation to desperation. Richly woven into a tapestry of myth, often filled with symbolism and subliminal meaning, a flight through bold splashes of color and stroke. It is a search for meaning and how an artist connects to the world or sometimes, in his case, disconnects from his reality. It is about love, desire, fear, failure, anger, and most import finding truth as if gazing into a mirror being held in front of him. To me he is a rare artist who expresses all his emotions, thoughts, and feelings through his art and is able to display it for the all the world to see.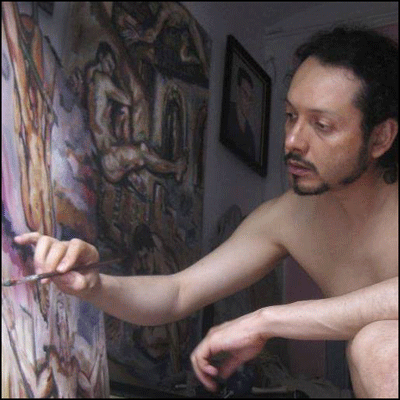 I had been aware of him, and the magnitude of his prolific body of work for a very long time, but it has not been until I recently reached out to buy one of his paintings that I really discovered him. As we began to chat, through email and on Facebook, and as I began to searched his very extensive body of work for available pieces, that I discovered we where basically on the same journey and our lives were so similar in our creative approach to self expression. The more he began to explain the meaning and feelings behind some of the work the deeper I was drawn into how truly brilliant his work and artistry was.
When I began working on this gallery and creating this biography, it just kept growing and growing. I found I could not limit my selection. I have kept it in chronological order; to be true to his evolution, through much of the more exciting work is later in the gallery. I know at first glace it seems overwhelming to see such of mass of text and imagery before you, but if you really take some time to look at each image and read the interview, I think you will discover and agree this artist is a genius. It is an intimate journal into the soul of a really great artist.
This is part of an ongoing email conversation with Sebasitan as I was reseaching his work to make it part of The Naked Man Project.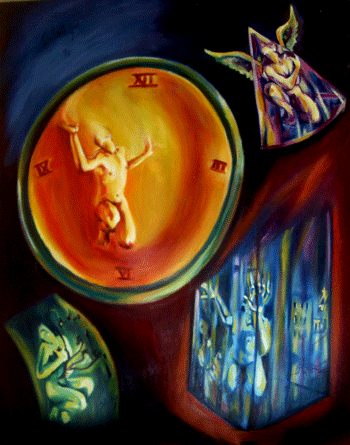 Terry: How did you begin and what where some of the things that influenced you to paint?
Sebastian: In 1994 I was studying Fine Arts in Guadalajara, Mexico, when I decided to make a series of paintings to do as my first solo exhibition. The series of paintings called "Sintesis en fragmentos" were influenced by the work of surrealists such as Dali or Frida Kahlo. I was then having a relationship with the first guy I fell in love with. It became a relationship filled with anguish, doubts, and cconfusion. My partner was not sure about having a man-to-man relationship, as he wanted to have children, this is reflected in my painting "Negacion de un amor". At that time thinking of marriage or having children between gay men was just a dream. In my painting called "Laberinto sin fin, laberinto sin ti", I was working with the idea of a labyrinth, I tried to paint what I felt, struggling with being a gay man, loving another, and gaining acceptance. Yet frustrated with him, as he struggles with feelings of guilt and sorrow about his sexuality, and then hiding it from others. I also painted him as a man that is inside a room with a turtle in a hand that is looking to a duck flying free out side. In "A veces este que soy" (right) I created many self-portraits, to express my feelings of living within a single moment. In it I explored four versions of my identity with time, religion, feelings and desires. One of my biggest surprises was marring a man in Spain in 2006, and having my paintings exhibited in 2009 in Jalisco the town I was born. A place I had suffered bullying and negativity as gay kid. It was a place I never imagined my work would ever be exhibited.
Terry: I love how autobiographical your paintings are when you describe what is behind them. I particularly think your early style is quite strong. Your compositions have a lot of energy, yet there is a soft smoothness in your strokes, unlike your current work. What is the media you used to create them? What is your process of painting or approach to a new work or piece?
Sebastian: I usually paint what I am feeling because there is something happening in my life that needs to be expressed. Thanks to drawing and painting I didn't got crazy. About the smoothness in my first painting series, I tried to be realistic, and also kind of academic. But when studying at the University in Mexico City my teachers tried to help me find my own way to paint. I slowly discovered how to make my strokes, more vigorous. I also started to paint fast, and not to do more than necessary. My autobiographical approach begins in my 2001 series where I was dreaming of living in Europe. Then in 2002 the images show flight, wings and airplanes, because I was starting to travel to Europe. In 2003 the paintings combine my Mexican past and my Spanish present. In 2004 the Iraq's War was a big concern for me and I was also without legal permission for staying here in Europe so my art reflects my anguish, and my fear about uncertainty and not feeling part of a place I could live in. In that series my painting reflects a deep depressing point in my life. "Juicio inminete" is a self-portrait of my feelings of impending doom and suicidal impulse in the painting. In 2005 my partner and I moved to our first home together. That year I painted love and expressed what it felt like being a couple. In 2006 we married and I painted a revision of myths. In 2007 I opened a shop, it was a dream to me having my own gallery, but it didn't work out well, as an economical crisis was hitting Spain. So we closed the shop in 2008. I had to recover from that and was painting in 2009 and 2010 about life and partnership. Then I started acting in cinema and also studying seriously to be an actor. Though I was still painting, I was not as active with it, since I was thinking of future and where I wanted to be.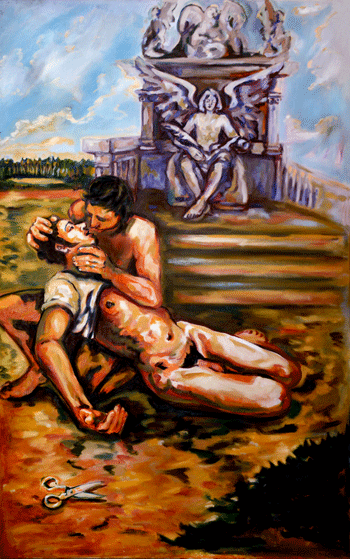 Terry: Thank you for being so open and candid in telling me about who you are. This is exactly why I began this project and what I originally meant it to become. It is the story of art and the process of creation and inner expression. When I first began photography, my instructors said shoot what you know. Much of my life was wrapped up in my sensual/sexual self and trying to express desire in a world that felt taboo, especially being from Montana. I loved the nude male and how we expose ourselves when we are reveal ourselves when we are with another and the intimacy of showing that sometimes venerable hidden parts of our selves. Montana is where I was born and it is where I chose to return. In your work I see a lot of symbols of angels or men with wings. What is the significance of these figures in your work? Can you tell me a bit more about your style during this period; it marks a dramatic break from the previous images?
Sebastian: The angels or men with wings in my painting relate both to the religious symbol and also the needing of flying from uncomfortable situations. Since I was child I have always escaped the reality of situations I felt bad about; usually my mom being abused by my father who was an alcoholic or children in my school who bulled me. This is my expression of flight; in my dreams I use to float and see all from the above. In 1999 I was living in Mexico City studying at the National Academy of San Carlos. I had a teacher say my drawings were too rigid and unexpressive, so I did my best to free my hand, my brushes and the strokes to make my drawings feel alive. In the studio we had a model posing and I moved around the class to make more than one drawing, working from different perspective with each pose, while others in the class were just doing one drawing.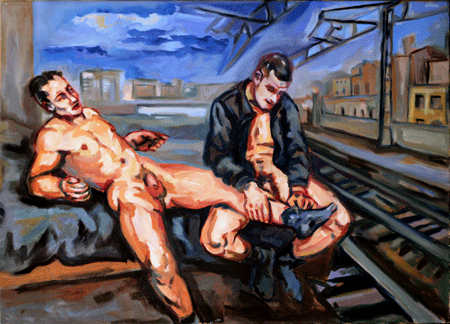 Terry: It's almost like you have two distinctive styles from the beginning to the end. 2000 is a major shift in your work it must have been a big transition year for you. The colors become more vivid and saturated. What was happening to you during this period? What was influencing the shift? The imagery seems to becoming more allegorical.
Sebastian: About the year 2000 painting series, I can tell you that I always wanted to come to Europe, it was just a dream that many people use to tell me it would not be possible. Actually I had a partner before I moved to Mexico City in 1997 that used to tell me that coming to Europe was almost impossible, as Mexican money here values nothing. But I kept dreaming, so when in Mexico City I had the chance to meet the man who was my partner there for 5 years before moving to Spain. He was an art critic and art historian, so he used to come to Europe for his work. And that was my chance for coming in October 1999. Visiting Greece and Italy, attending Venice Biennal, and living a dream that came true changed my way to understand art. My father died in 2000. My father was an alcoholic person that started drinking alcohol when I was 2 years or so, so I always saw him same way, being a monster at home, hitting my mom and us, lying on the street drunk, pissed, some times hurt and bleeding after falling on the street rocks. That is why I named this series "In memoriam. padre" in memory of my father. By the time I was living with my partner in Coyoacan, Mexico City, there used to be a young man lying on the neighborhood streets drunk just like my father. I used him as a model in some of the paintings in this series, like in "En guardia" "Hasta el fondo", "Entre tus manos" and "Atendido". He represents that lost life, drowned in alcohol. In these series I tried to express my way to feel about being raised in an macho education that teaches you how to be a man, and not to be a gay one, but having as an example a father who was not a real man to be inspired by. As I wanted to be anything but not a man like my father was. In these paintings sexual intercourse between men appear veiled, meaning that in a macho country gay sexuality must be hidden from others, cause it was not accepted at all.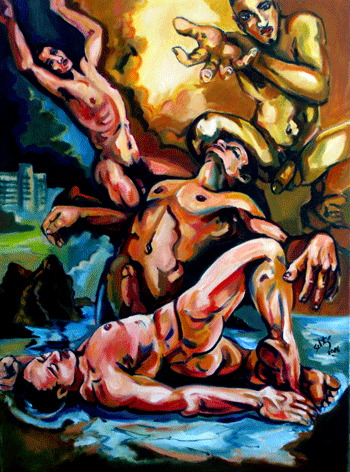 Terry: Thank you for more of the detail. My mother was also an alcoholic. When I was a child she was loving and kind, but turned to alcohol when I got older. My father used to sleep with other women and I think she knew and it was her way to get back at him, but then it consumed her and I think eventually led to all the health problems she had which eventually ended her life. She died fairly young. Your artwork has such a vibrant feel in it. I could not quite understand where that was coming from, but now that you explain it, makes more sense. It feels my own work is about searching for beauty and the extraordinary sensuality of others in the ordinary. Most of the people I photograph were just average people I met in passing and asked if I could photograph them. When they saw their own beauty it's changed their own perception of who they were and gave them more confidence and self worth. I too used to help the less fortunate and was drawn to people homeless and on the street. So many of your images are about water and what looks like a beach. Tell me more about this period what inspires them? I also begin to see an older bearded man emerge in the work, who is this? And what is the tower?
Sebastian: I think that art is always the searching of beauty, even in the worst situations that we experience; we always try to make our best. Of course when there is something hard to express, or something that makes us feel sorrow, pain or mad, the images will express it in another way than beauty. It's great knowing you looking for that beauty that makes life worth to be lived. I am sorry for what happened to your mom. I am sure that she was a very sensitive person who had to use alcohol trying to feel less the hard side of life. Now I understand same about my father, and thanks God cause we have art to make our life better and to express which is not the best, but avoiding drugs and alcohol, which are not the right path to follow. About water in my paintings, since 2001 when I started representing both sides of the ocean, Mexico and Europe, I called that series "Pasados recientes" meaning that something we live and enjoy is just past a moment after, and some times we try to make it live forever. That happened to me when visiting Europe for the first time in 1999, I had to keep living my reality in Mexico and didn't paint about my feeling in Europe until I came again for a second time at the end of 2000. To me water was the element that separated me from the other continent, but at a same time was the link between my country, my present reality and that recent past I have lived and enjoyed when looking to the beauty of art and life in some European countries. The first time I came to Europe I've said to a friend that I could happily die after visiting and looking to the beauty of Venice and other cities. But my friend said, no, you don't need to die, but live to go Europe once and again, and many times in the future. But I wanted to live here, so I started dreaming on coming and living here. That is why the paintings join images from Mexican beaches, with monuments of Europe. And those paintings talk about dreaming, and wanting to come again here.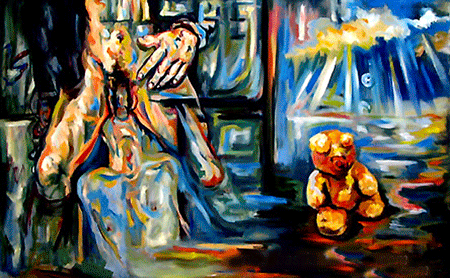 Terry: I think this is the year your work really comes to life for me. It seems stronger, bolder, more emotionally connected. Are these ideas true? So I would like to ask you, how old are you? Do you make your living through your painting? If not what else do you do to sustain yourself?
Sebastian: In 2002 I was in the last year of my Fine Art studies in Mexico City, but I had already decided to come to live in Europe. By that time I have met a man in Germany that I felt in love with and I thought he could be my partner when moving here. I also thought he could help me to find my way in Europe. But that didn't happened, so I started a relationship with the guy who is my partner since then. That year was full of emotions, as I had met the man in Germany at the end of 2001 with whom I felt in love with, then he went to Mexico to visit my country, and he also met my family and friends. So when I came to his place in Munich I was thinking on our life together. But that didn't happened because he refused supporting me as an immigrant in his country, so got totally depressed, but life gave me another chance when meeting my current partner. I started a relationship with him while in an artist residence in Spain, and eventually we got married in 2006. The painting series are called "Rutas de Vuelo" cause that year started for me in Paris celebrating under the Eiffel tower, then flying back to Mexico, after going again to Europe and back again, as in the start I was looking for a legal status to live here, but it was not easy to achieve. The painting called "Red sky over Europe" represents the death kiss, that I took from an sculpture in Poblenou Cementery of Barcelona. I made it cause I feel that death and love can be together as both sides of a coin. Eros and Tanatos. Life, death, passion, sex and pleasure is a way to feel alive, while repressing or denying our desires is kind of a death in life. Sueño en camino is a guy that is remembering his past life, wanting to grow up, and also wanting to have a partner, as a father, cause he didn't have a real one. In "Tradicion oral" (above) I play with the meaning of oral sex, and how we love it, cause it reminds us the good feelings of being fed while child. That is why a teddy bear is close that couple. I´m really happy to know you working on this gallery with such passion, as I am sure you feel many of my paintings like being yours as you got a very special sensitivity and empathy. You have been making me an interview that for sure shows the deep human feelings that I try to express when painting You asked me before if I get an income from my art. I whish I could live only from it. But right now I use to sell my paintings from time to time, which helps me to keep painting, even if for my daily expenses I get an income from my work as a massage therapist.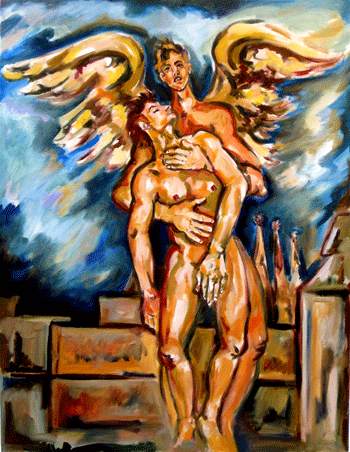 Terry: I do have some questions about what has become of your work. Have you sold most of it? Is some of it still for sale? Do you have private collectors? Any shows or places it is displayed? How have you gone about marketing it and yourself?
Sebastian: I started selling my work thanks to Internet in 2000. My first art collector was a friend from Boulder, Colorado. He first bought one of my paintings, and eventually collected more. Actually, most people who have bought my paintings, usually takes more than one. It has been same since then and my art is mostly in private collections in USA, Mexico, Germany, Spain, Sweden, England and France It's has been easy selling my art works by myself. Some friends have also helped me getting to others by organizing meetings and parties at their homes to show my art. That happened to me when moving to Europe and also the first years when I was living here. I can feel very proud and grateful to them, as they have been truly important for my career. I still have many of my paintings, from my latest painting series, and also many from my starting art works for sale. Some I keep for my own collection, and others no one has asked to buy yet, but I'd be happy to sell if some one is interested in them. My art works right now are only on sale by Internet, or by asking me directly, or surfing the web. Actually I do prefer to be in touch with my collectors, to answer anything they want to know about my art, as to me price is just a symbolic value, the real value is the story behind each painting, or the vital moment I was living in when doing it. Right now selling my art is not my main income, so it can help me anytime, as it comes as a gift from my efforts or my dedication to art. I prefer it this way to keep doing my art for pleasure, not only for commercial purposes. Of course I dream of the day I would only care about enjoying life and art, and living from what I have done, but until it comes I will keep enjoying doing my art and also living from other activities.