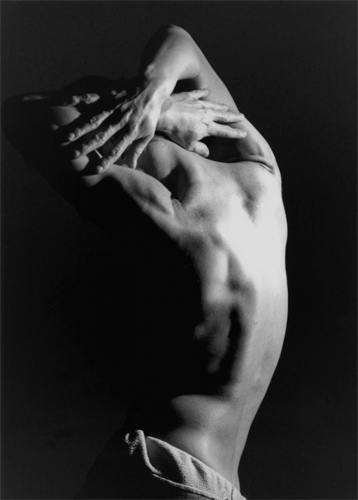 This past week, partly because the temperature dropped into the teens, I have retreated back into this project.  In fact, it has renewed my obsession with The Naked Man Project.  It's almost like I have to completely deconstruct it to bring it back into existence.  God what was I doing before to create such a hodge-podge of a mess. I'm actually quite surprised it even functioned for as long as it did, but I'm having a blast revitalizing it.  In fact I feel on fire with it.  Working on it from the moment I get up and then late into the evening on my laptop in bed.  I have never believed in something as much as I have this project.
So many people have reached out to me via texting, Facebook, and email in response to the project this past week, it just continues to fuel me.  It is finally becoming the project I envisioned when I started it back in 2011.  In a greater sense destined to become a global collective of other peoples obsessions with the male nude as a higher form of artistic expression.  I have always wanted to feature the drawings of David Vanderpool and I managed to complete that this week.  In fact it became the model for the new guest artist project that I have reworked the others toward visually.  In reworking this section I have been in contact with all the other artists to clean up and relink their images.  I feel like I am part of a greater global artistic community.  I didn't realize how much I missed all these conversations.  Living and being in Montana, and not generally recognized as a creative individual is very easy to become reclusive.  But this site still remains strong!  Thank goodness for the Internet in this regard.  This project began with the subheading of "One man's exploration In finding himself and his search for light, beauty, desire and art."  When I began the project I really was searching for some sort of acceptance for my "alternative" creative expressions.  A way to link to a new found community dealing with their one vision.  Now I see how many people have been touched by this endeavor.  In the beginning I did not see my own work as very interesting, but just a means of expressing my feelings and emotions as I examined my connection to the culture around me.  I remember how shocked I was the first time I posted some of my images on a site called ManArt, which collapsed shortly there after due to censorship issues.  I now see how much I have grown since those days and now nothing no longer seems taboo. I am on fire again and it feels great to feel alive once again.
Today's image was the very first attempt I had at creating male nude art.  It was of my friend Daren Eastwold, who was a dancer with a body to kill for.  We went into his apartment and I had a single incandescent light fixture.  We rolled up the carpets, and removed everything from the walls.   The place was on the verge of collapse, in fact condemned, and later torn down.  I was nervous as hell as we began to shoot because I had no experience at this sort of photography.  This was back in the predigital days and I was shooting actual film. That meant I was limited on how many exposures I could take, and that I really wouldn't know the results until I could process the film and print the contact sheets a couple days later.  Those contact sheets turned out so dark I could hardly see them and thought I had completely botched the shoot.  But there was one image that stuck out that even looked remotely worth working on.  Just one.  I put it into the enlarger and began to print and this beautiful piece began to emerge.  To me that was the defining moment of so wanting to become an artist.  I remember becoming on fire then, the same as I am on fire now.  Life is about passion.  Not being afraid to embrace it.  And from that moment forward to this moment hence I have followed that dream.