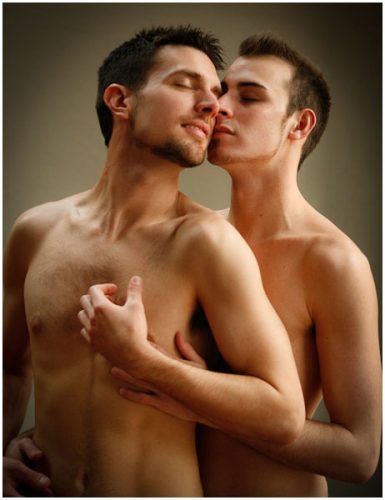 Today marks 13 years with my partner Glenn. It's hard to believe that you can spend that much time with any one person. We met here in Missoula at the American Veterans bar in downtown Missoula. Neither of us are veterans of any sort of war but it was a place most of the gay people in Missoula began to hang out so it just became the gay bar. When you live in a small town you have to take what's open. We are about the same age and we discovered early that we had the same core values. He was born and lived in Missoula all his life and I had grown up in the mountains west of Missoula. I had dated other people before and am a person that tends toward long-term relationships. I had always dated people that were similar to me in likes and interests. So Glenn was not the kind of guy I was looking for at all. He was and still is the complete opposite of me and always will respectfully remain so. He loves football, is analytically inclined and is addicted to Fox News. I love theater, anything artistic, creative thinking and very removed from current events or anything political. But at the core we fundamentally believe in the same thing. When I met him he was not open or out, and I was completely open. He is a rock of stability, stoic, strong, with a gentle personality that genuinely always seems content. When we first started dating he said I would have to learn to like football because he was a huge Montana Grizzly fan and buys season tickets to the games. I said that's fine but you will also have to go to the theater because I buy season tickets to all the shows. I did go to the football games and loved it. And that first season he saw Miss Saigon, Phantom of the Opera, Les Miserables, Annie and Showboat and was a bit awestruck by the magical world of theater. When we first began dating we bought one of those gay relationship guide books too that we read to out loud each night to discover where the other stood and what to expect. You see Glenn was always a bit short of words and never really talked about much or expressed much feeling. This made the beginning of the relationship difficult for me because I wanted to talk about everything. It took a long time for me to fully enter his world, but I somehow always knew what was in his heart. He worked at a service ryder for a car dealership and shortly after we met I sent him a beautiful bouquet of yellow roses with blue iris. In those days it was common to actually send flowers to someone you adored. That night he came home furious with me for having sent them to him at work, back before the days I was informed that his uniform was not an outfit. I think there was some appreciation at the bottom of all that humiliation. We have survived. One of the most beautiful moments was when I was on a trip to Seattle and we stopped in Spokane for a break and wandered though the Riverfront Park, he pulled a beautiful teal box from his pocket and gave me a ring. This was a moment I knew had sealed our relationship, the action was louder than words. Since then we have built an amazing life together, weathered each others hardships and found joy in the most unusual of places.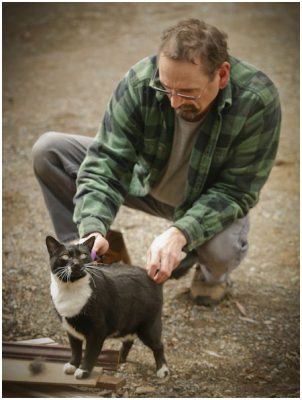 I really don't know what he could have seen in me from the beginning and I still often wonder why he continues to put up with me after all these years. He has helped me to become who I am and allowed my dreams to soar. Though I don't think he understands what I do all the time, he is most often there offering support it and he has helped me build this studio. He has adopted two stray cats who are our constant friends, Kitty, seemed pointless to name her because she was deaf and wouldn't know her name anyhow, who came with the construction project. Then Bob a scared little critter filled with affection, who cannot speak and has a lopped off tail, hence his name. They look identical and with all the defects between them make up one whole. I guess Glenn just has a knack for rescuing strays and letting them into his heart. This week he is working out of town in North Dakota and I doubt even remembers today, so I think perhaps this will be a surprise. The keys I have learned to long term-relationships are: To be respectful of each other even if you don't agree on something or care for their lack of fashion sense. Be open minded and listen to both sides of the issues without thinking yours is the only perspective. Nurture each other when one is down. Don't think you can change something to suit your expectation. Give with your heart without expectation. In 13 years we have never fought. I love and miss you sweetie, Happy Anniversary.
Today's title comes from a song in the musical SHOWBOAT music by Jerome Kern, and lyrics by Oscar Hammerstein II. The lower image is of Glenn combing Kitty.