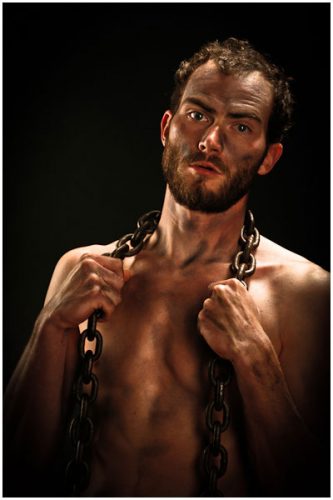 Yesterday I began a discussion about analyzing light in a photograph to use it to your advantage.  The discussion began with my looking at a book of rare vintage nudes from the 60's.  And there was a prime example of what I wanted to talk about in one of the images but I can find a decent enough image of it online to show my examples so I am going to take this image of Travis.  It's harder to do on an image that I already know and have created.  To me my own lighting techniques are so simplistic that they are hard to describe but here goes.  My concept for the image was to show a gritty dirty mechanic sort of guy who had been working in a shop possibly most of his life.  Growing up in small towns in Montana there are guys I know well and in high school I was particularly drawn to one kid who really exited me.  He was a smart kid from a poorer family and work to help supplement and support his family.  I watched him struggle most of the time and often worked instead of having fun with some of the rest of us his own age.  He had an alliance to duty and I felt he often felt trapped in that world longing to be out from under its burden.  He always seemed to live in a very fractured world.  Yet there was something sexy and sensual in his honesty and how humble his work in the garage became.  Every time I would visit he would just dirty in his coveralls, grime smeared across his face.  The smell of the grease and mechanic dirt somehow become intoxicating to me and I found a strong desire to somehow be closer to him and somehow ease his fractured world.
I used Travis as me subject for this study because he so much reminded me of the person I used to know.  So now that you know the history of the image I want you to begin looking that the image and analyze to see if I have indeed captured the properties of my intent tough the use of light.  Typically I do this with images I don't know the story behind and try to discover the artist's connection to the subject though their use of light and exposure.  The first thing I look at is the overall feel of the image.  What does it stir or evoke within myself?  There is a distance yet longing with in his eyes and a power and a strength in his hands that embrace the chain the bind him around his neck with a sort of comfort while he stands back, distant, yet there is a longing in his bloodshot eyes to connect to something different.  Once you have established the over all mood, you must search the image for what supports that feeling.  How does the light impact the psychology of the image?  How many lights did the photographer use and where were they placed.  The first place to begin to look for how a photographer uses light is to look at the catch light in the subject's eyes.  If you can zoom in close it will give you a lot of detail what the shape of the light was and where it was placed.  On Travis you will see I used two lights in the front one a very long narrow light with a soft filter almost straight out in front, slightly to the right.  You will also see just a faint small secondary light to the left that fills in the shadows on the left side of his face.  This is what captures the longing in his eyes.  I then used two very strong lights one to the left, not very high to sculpt the right side and a secondary light with little filter over his left shoulder.  These are slightly behind him because I wanted there to be shadows on his face that represented and fractured light coming from different angels across his face, enhancing him being pulled in different directions accentuation his own fractured world.  To discover the placement of these lights you look at where the highlights hit and the shadows fall.  You see dappled patches of highlights across his face that mirrors the dappled grime on his face.  Look at how the shadows fall on the veins of his hands and try to visualize where the light would need to be outside of the image to create such an effect.  Then the image is slightly underexposed to give it a pervasive darkness that was really the mood I remember about this kid.
I can spend hours and hours looking at photographs trying to analyze the intensity of their felling.  I think many photographers once they learn the tools of their craft subliminally allow those powerful tools to work for them.  We don't really have the time to necessarily analyze the image as we are taking them, but all we have ever learned just instinctively comes into play.
Though my thoughts of this boy go back to when we were both 16, nothing developed between us, just a remarkable friendship, but I still remember that longing to become a part of his world; to somehow linger beside him.  He ended up marring my best friend and entered a world of greater joy that I had never seen within him before.  He finally seemed content.  Years later I heard of his passing, probable suicide, and a sickness filled the pit of my stomach.  I know I have become a success with this image, when I gaze deep into Travis' eyes and am haunted by the memory of our faded youth.