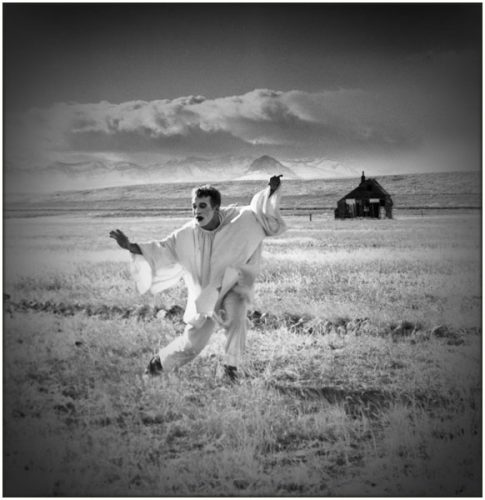 Today's project is about a living legend who still inspires me and actually become the impetus for my creating this project. That person is my dearest friend Billy Bowers. I met Bill many years ago when I worked in the theatre. Bill was originally born and grew up here in Missoula, Montana, went back east to go to school at Rutgers, become a world famous Mime, television/film actor, and eventually working the musical Broadway circuit in the original cast of the Lion King. He currently lives in NY with his partner Michael, who also is another man of great inspiration.
Well many, and I mean many, years ago, Bill and I met on a national tour with a production of The Heidi Chronicles for The Montana Rep. I was stage manager and tour company manger for the production when Bill came in as one of the lead actors. During that tour we become roommates and creative soul mates. We would lie in bed at night, before falling asleep and tell each other the stores of our lives and just laugh our selves to sleep. For some reason Bill and I always seem to see humor in all the tragic events of our lives. Bill had come to this particular tour just weeks after his life partner of many years passed away in NY; he was needed to get out and work the open road again. Our lives on the road was like an extended version of the characters in the movie The Adventures Of Priscilla, Queen Of The Desert: two gay men touring the country passing though small towns and the constant misadventures of life on the open road. Every day was an adventure and challenge. At the time when you are touring with a show, it seems like hell and such a burden because it is so much work. Your entire life, every moment, seems filled with constant production issues. Beginning early in the morning, traveling, setting up an entire stage, and adjusting all the production elements of lights, sounds, and cues, sometime in the most unlikely of place were no production should go. Adjustment rehearsals, a quick bite in the theater as you work though fixing problems, the run of a brilliant show, and tear it all down, load it all back into the trucks, and get to bed in the wee hours of the morning only to get up a few hours later to begin the process over again. But looking back what an experience to have such an opportunity to live such an existence. Your creative team on the road becomes your greatest friends or worst enemies depending on how well the company has been put together. So Bill and I totally bonded; it was these rich stories of our lives we shared that become the tapestry which wove us together. I have toured with Billy several times since and we have worked on several projects together and have remained friends over the years.
Several years ago Bill took all the stories of his life and wove them together as this awesome show called It Goes Without Saying where the mime breaks the silence and speaks. It's an incredible journey of an artist's life and his evolution as an artist. Funny, tragic, heroic, a love letter from his heart that moves the audience to the depth of its soul. He premiered the show in NY and I went out to see the production. I was so utterly moved by what he created and how honest he was in telling the story of his life. It was pure poetry delving deep into his self and bearing it for all to examine. After the NY run of the show, he wanted to take it on tour and so I helped him adapt it for the road. I took the original lighting concept and adapted it, put it together as a script, and a lighting plot that could be thrown together in a day that still maintains its technical brilliance. This plan works in any theatre or, more importantly, the many non-theatre spaces he might have to play. This was my forte in life technically adapting shows for the road. The last couple of years this show has now toured all over the globe and now for a four-night run Missoula. It will be at the Crystal Theater from the 24th through the 28th of this month and I will once again work on creating the lighting for this brilliant show. Bill always stays with me when in Missoula and our love for our craft, life, and laughter begin a new. A new adventure is always around the corner. In fact the Saturday after this Missoula run we are taking the show to a nudist colony in Idaho.
Billy's courage to honestly share his stories and life become the foundation for me telling my own stories and examine my own life as a creative artist, hence this The Naked Man Project was born. Thanks Billy for the courage and inspiration to do what we do best, create and make each other laugh.
Checkout Bill's Website
My Bill Bower gallery on Facebook.