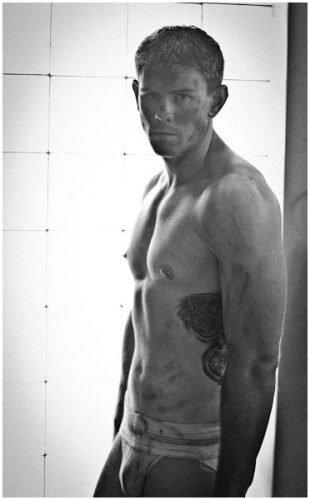 I have a black old mangy three-legged cat that hobbles through my back yard each day looking for scraps. When I try to befriend it, in the garden, it runs away, afraid of human interaction. I don't know where it lives or even where it comes from, but every time I see it I feel a strong connection to it.
I have two other cats that I have taken in as strays and nursed back to health. They almost look identical, mostly black with white beards from their mouths to their bellies. Kitty came first, when we were doing the construction of the studio, she was constantly at the site, climbing on everything. She is deaf and we never named her because it seemed pointless giving her a name if she could not recognize it. The fact that she can't hear has some how gives her a boisterous voice that can become annoying when you are trying to sleep. She was a thin, boney thing with droopy eyes and the studio has now become her domain. Bob came by about a year later; he is named such for his missing tail, and walks oddly because of it. He is mute, and when he tries to speak, only a pathetic thin squeak emits from his mouth. He has recently been diagnosed with asthma and we have three options: we can either put him on steroids which will completely alter his personality or get him a kitty inhaler that is outrageously expensive, or allow him to live naturally with his lungs becoming restricted and eventually suffocating. He too came to us emaciated wearing a purple collar that was ratted around his neck and big curious eyes that made him look like he had just come from a circus. Glenn walks them each night through the neighborhood, allowing them and us to explore their worlds, which they enjoy immensely, and now seem to demand, when it gets dark.
I digress and what I was trying to get to was that I have always had a thing for strays. When I was bartender at a hot gay club in Washington DC, in the late eighties, after work on my way home I would often pick up the young male hustlers and take them home. Not for sex, but random acts of kindness often washing their cloths, letting them shower, and feeding them. They somehow always seemed to remind me of my home in Montana and these little acts of kindness went a long way and I was always rewarded, by the dropping of their street attitude as they allowed me into their private personal worlds. They would tell me the stories of their plight leading them to this point in their existence. It was a world I understood and identified with, the desperation and destitute they often felt. Several years earlier when I was in Dallas, at the end of my first relationship, without a job, I too had relied on the kindness of strangers for my own survival, so to speak, so could relate to them and many of them were from places like Montana. My friends where horrified that I would allow these strangers into the house, dismissing them as the underbelly of the world. Then again, it's part of my Montana nature to be compassionate and look out for others.
I think it is one of the greatest skills I possess is my ability to communicate with anyone. I see in the work I create that experience and exposure allows me very easily to cut to the core and strip away all the grime with which most people surround themselves. This is the true nature of what I do and why I got into photography in the first place. I sometimes forget this and it feels lately have gotten so far from in my process. I am beginning to line subjects up to begin shooting in the next couple of weeks. I now see this is the core of what I need to get back to in my work. All of this talk of creating shows or exposing my work to a broader audience has distracted me, as I recognize I have grown a bit distant from my process. As I am beginning to build this web site I see this is the real essence of what I do and have been doing all along. I think many people in Montana now fear me for my bold and honest approach. As it feels it's becoming harder to find those subjects willing to reveal themselves.