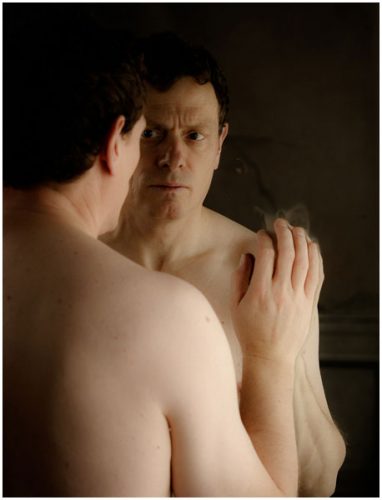 This morning The Naked Man Project takes another leap of faith in it's evolution. In the past six and a half months it's amazing how much we have grown. My ultimate goal was to create some kind of public showing of my images and work and hopefully have a publisher pick it up and we could do a book of some sort. Today I embark on a campaign to make this dream an eventual reality. I am taking a leap like I have never taken before creatively. Asking for others to help me in my process. A little over a year ago, I was a frustrated, reclusive artist, lost, desperate at the end of my rope with a hidden talent. I did not think my images of nude men were very good, certainly not interesting enough to show to others. They were a journey into my own psyche, the images of a dying man's desire, dreams, memories. Not even my partner was aware or had seen many of these images. I was afraid to show even him what I was crating. Now a little over a year later I have made that leap of faith and put the images out there. I have emotionally connected with a collective of extraordinary artists from all over the world who have instilled me with a confidence and strength I never quite knew I possessed. I have inspired others through the lessons I have learned. To put one's self out there every day for an entire year is taking more stamina then I ever imagined. So here is stand, once again, exposed, possibly the ultimate exposure of all because I need something in return. The stakes are higher now with the possibility of a dream just out of reach. It is typically not in my nature to ask for help, and I have spent a life being self-sustainable. I have always been the one that offers the support. This leap is just not on a financial level that I expose myself; it is also on an emotional level. I spent all day yesterday creating a video for the launch of this campaign, I have finally stepped in front of the camera and put the part of myself out there that has not been seen. Being the type of artist I have been, it has been easy to remain hidden. You may think this is silly because I have spent a great deal of my life working in theatre. But in that world I too remained hidden. I always worked in the darkness behind the scenes. The last couple of days have been a very daunting and unnerving task. There is still a part of me that wants to stay hidden and remain in the dark but what good is a passion for creation if it only to be locked away and never seen? Now the only question I must face and ponder, is this all an illusion that I have created in my head? Do I really have a talent to succeed? Has this merely become a delusional fantasy that I engage to mask my insecurities I am possibly afraid to face. To choose to be an artist of any kind is daunting. I learned a long time ago that as an artist I would never be quite content with a simple answer; there are no simple answers. We put our selves out there as an example to others, to inspire others, to make us reexamine what is true within our selves. The greatest part of creation is the courage to begin the process. I have at least done that and the journey has led me to the greatest discovery of all, myself. These journals, these images are the stories of my evolution, laid bare for all to examine with dignity, grace, and humility unbiased and uncensored. This is the journey of an artist, but ultimately the journey of a man, flesh and blood who has dared to live.
I have been offered the opportunity to meet several influential patrons of my imagery. They are quite interested in the unique quality of my vision and have become fascinated by this project and process of my exposure. They are interested in meeting me to figure out some sort of creation of a public exhibition of my images or a publication of my work. Some have agreed to host me with minimal expense as long as I can get to their locations in various parts of Europe. I have used my accumulation of airline miles to get me as far as Paris, so what I am looking for help with covering some of the incidentals, some hotels, and a little travel. But my greatest effort needs to be in creating a portfolio that can knock their socks off. It is time in my life to make this leap, so thank you so much for any support you can offer.
The Kick Starter program is a web-based project designed to connect artistic endeavors to public support to make those proposals a reality. You come up with a project that you think is worthy of support, submit a proposal, set an amount you need to raise. If the project is accepted, it is given a set amount of time to meet its goal. Once posted, anyone can then look at your proposal and decided if they want to pledge toward that goal. It's an all or nothing program, where you must reach the goal or no one is charged and the project does not get funded. Here is the link to my Kick Starter campaign. Every little bit helps in obtaining that goal. Please become a part of this next step in my journey.