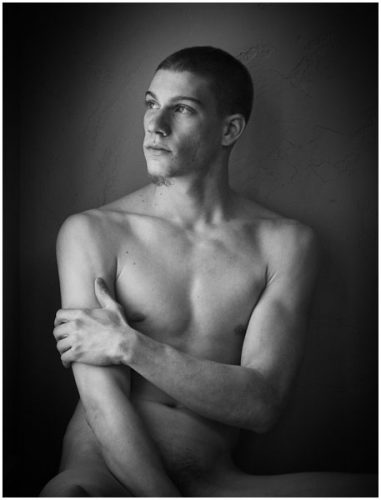 Yesterday was a fantastic photo day. I have begun perfecting the saturated colored cloth series. Tuesday I photographed another kid in the same lighting set up I used with Travis on Monday. This kid really has a classic body type from the ancient roman era. His face and expression blended with the feel of what I was trying to achieve in the image. We worked with the idea of a beautiful line and flow of his body from the red cloth. So I spent yesterday morning sorting through his images for a perfect balance of color and tone. I became almost too involved with each image that suddenly my morning was gone and I still hadn't finished the series. I then got to talk to my buddy Ramon in Costa Rica about images, art, and life in general, wrote my daily journal and then one of my favorite all time models Jeremy stopped by for the afternoon to work on some new images.
Jeremy is a person I always instantly connect to every time he comes into the studio. He is currently 24 years old, now has dark curly hair and dark eyes that draw me deep into his soul. I met Jeremy through a gay cruise site when I was looking for models a couple of years back. It was difficult to find subjects who were willing at the time to be photographed nude. It was the fall I had completed construction on the studio and I was desperately trying to find subjects to put the new space to the test. Jeremy and I instantly bonded and he has become my favorite subject to test new theories and ideas. Though Jeremy is young in age he has this old soul quality in his expressions and comfort in his body language. Jeremy, to me, naturally has classical Greek written all over his body. He is a natural in his stance and movement.
I've been toying with an idea in my portraiture lately to just using the natural window light in the studio. Though I have used the window light before, mostly to create mood and feel, yesterday's focus was to use it to sculpt a body. I have been looking at a lot of images from French erotic art of both men and women lately and the images I am most drawn to were done in this natural light. Jeremy was the perfect subject to put it to the test. We disconnected all the studio light and moved all the furniture away from the windows so we would have clean backgrounds and work with only the existing light. It was a rainy, murky overcast day outside and when I first thought I wanted to work in this style, but almost detoured because it looked like the worst possible lighting scenario to work in. But there was a magnificent brightness in the clouds that created a dull glow through the window that made Jeremy's skin glow. We hit the mark on the first shot and the instant I saw it knew we were in for a wonderful adventure. I am always drawn to Jeremy's skin; it is perfection in so many ways: soft, pale, luminous. His body tone is supple and well defined and captures the perfect balance of dark shadows that sculpt and define the muscle tone and the brilliance of perfect whites. He photographs well in color or black and white, no matter what kind of lighting, but this light murky light made his skin radiate with an ethereal glow. I am now getting behind on my processing of images. All I want to do is create and work in the beautiful way, day and night. I am becoming obsessed with the images. Fortunately the images are becoming better to work on, which takes up more time. I am taking the next several days off from shooting just to become lost in the beauty of the images from this week.