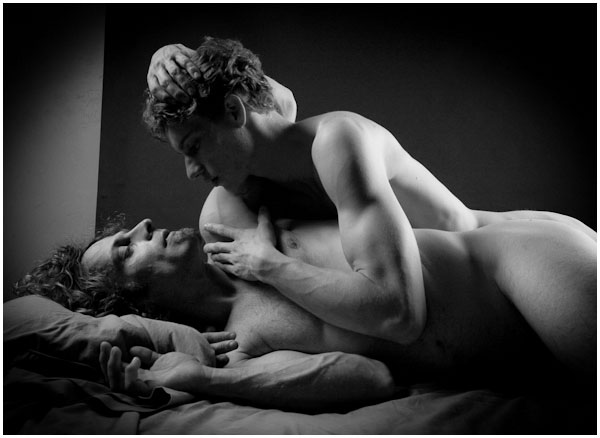 The best evening in Berlin yet. I was able to go meet Franz Werner and Dragan Simicevic. We met at a café where Dragan currently has a show. He is an artist I have been following for quite some time. Though he is gay he does not shoot gay. His images and models are filled with a deep mystery and his images draw the viewer deeper into the subject. He has a very strong connection to the models and the images are captivating. On so many levels, our process and approach are very similar in the way viewers are pulled into each of our works. I see so much of myself in his work and he is one of the reasons I wanted to come to Berlin. We sat on the street from 7:00 until the evening turned to blackness. Franz on the other hand, though he is not an artist, is a strong supporter of gay artists and was at one time active in showcasing gay art. He seems to be well connected to the Berlin artist scene, knows all the galleries, and has put together many, many shows and knows most of the artists similar to my style throughout the world. From conversations I have had with him, his vision is clear and precise. He is also one of the reasons I came to Berlin. Dragan's friend, Stephan, also joined us.
We all instantly bonded and it was such an honor to spend a remarkable evening in the presence of amazing talent, and to know that I have joined the ranks of such extraordinary artists of my time. There was warmth, depth of passion, and inspiration flowing amongst my friends and we talked about our processes, approaches, and difficulties we overcome to create. The passions of our hearts flooded the street at a table on the sidewalk as be drank coffee, beer, and coca cola and ate chocolate. This was suddenly a space filled with a magic glow as our worlds untied. I am sorry now that I did not plan more time here in Berlin and that I must head back to Paris the next morning. I would so love to have spent the weekend and watched Dragan work on a shoot he had scheduled this weekend. But not knowing ahead of time, it was difficult to plan.
I learned from this process and now see a host of possibilities of where it will take me. I suddenly crossed the line for a shy humbly cowboy from Montana to a man who is larger then he ever imagined possible. I have found my home and somehow all else no longer matters. I have breached the isolation and of my mountain studio and have stepped into a world of acceptance and wonder. Tonight feels like it has become one of the most important nights of my life. It is a passing into a new realm of possibly. I now see what I do is far larger than I as a person will ever become. I now know for certain that this is my time and it is time to for me to cease and own what I have become and what I create. I now take home some new visions and approaches to what my work will become. I am no longer afraid as I see the laughter and smile and warmth of my friends on this remarkable summer night here in Berlin. I managed the bus ride back to my hotel, though it felt like I was floating across this dark city that so intimidated me in the beginning. I now see that my life has to change, and I know the work and steps I need to take to get where I want to go, for the most part I am already there. But it is now time to grow without losing sight of the core of what initiates the impulse. Dragan lives the life of his imagery and become the art. I become the art, but do not live the life. I am confused and trapped by a world that surrounds me, and that confinement becomes overbearing and constrictive. I began this project by asking, "Was an artist born or created?" I believe now that to become an artist is a destiny. We are born with an inherent need to create, but it is what we do with and how we cultivate it that becomes important. To be an artist and not to just say I want to be an artist. It is felt and experienced. It becomes the culmination of being willing to step outside, beyond yourself, to follow a passion, and to believe in what you do and not be influenced or swayed away from the sight or vision. We live in a world of distraction. The Internet, family, relationships, needing to make a living… All of this eats away at various elements of our ability or desire to create. The more we become secure with the conception of what it is we perceive we want to become the easier it is to safe guard and protect it. I am at a tipping point now and I can feel the balance of that weight beginning to shift. The once sacred now feels ordinary as I pass into a different realm of possibility, without in trepidation, intimidation or fear. Many years ago, with my father, we climbed to the top of the highest peak in our small world of Mineral County. Together we sat and looked as far as the eye could see. That day I saw the mountains kiss the sky and I saw a passion in my father that I had never recognized before. This was his universe, what he understood. Today I am able to step beyond the boundaries, beyond a world that is only limited by the distance I can see. It now lives in my heart. Tears fill my eyes as I am on crowded airplane midair between Berlin and Paris because I am so over come by my emotions. I try to discreetly wipe away the tears. It does not hide my feelings and I realize I am still ruled by the home from which I felt as a boy. Here, I am a cowboy, amongst a world of strangers, behaving contrary to what my mythic form would suggest. Cowboys are stoic and strong, I realize the walls have fallen and I am lucky to have been given this gift.