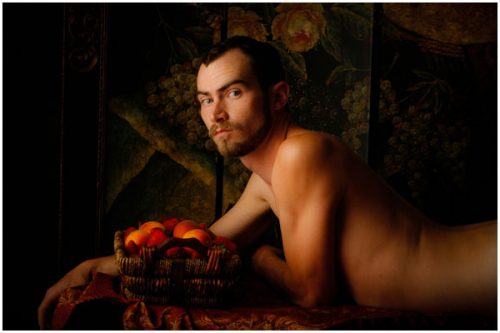 Last night I crossed over into a strange delirium of geekdom as I had visions of naked men dancing in my head and my sexual desire crossed into a strange cyber lala land that wasn't of men with huge penises and small tight butts, but where people were ordinary and a beauty was recognized from within. I have a kid I work with at UPS, who is a total cyber geek, whom I completely adore and I now feel like I have crossed into his dimension of existence, and I have a greater understanding of where he's coming from. Some friends had invited me out to a drag show and when I got off work last night, I sat at my computer and was suddenly sucked in. But, it all began to click last night, instead of fighting technology I was suddenly a part of it and things where suddenly happening. Oddly enough I didn't work too late, but had added some major elements to the project that seemed effortless. I looked up and it was only 11:00 pm and I was shocked. Normally it has been 2 or 3 in the morning. I realized the web site had past the tipping point and had crossed to the other side as I shut it down and walked away.
I took the kitties for a nice long walk under the beautiful starry sky, feeling the warmth from the day still in the air as my mind and body become overwhelmed with a great sense of satisfaction. I went to bed early and as I lay there, I laughed at how much I have changed this year and how far I have come and how I have crossed over into a side of myself that I have not felt in a decade. Sex used to make me feel this great. It seems when I hit my forties, the sexual side of myself had begun to shut down. I know guys my age who are still totally engaging in sex, all the time. Why has it all shut off for me? Mostly I think because I had the most ruckus youth and lived that prime to its fullest. I was mostly ruled by my dick from the mid twenties to those forties. I stayed in a long unhealthy relationship for almost eight years because the sex was so extraordinary, and then it took two years to get away from it because we were still having sex even after we separated. Everything became about sex and having sex, so I definitely get it.
Mapplethorpe photographed the people he had sex with and you can often see that personal connection to those subjects and their trust to allow him into places that would otherwise be forbidden. I somehow wished I had found Mapplethorpe earlier and gotten into photography during the prime of my sexual desire and could have recorded all I have experienced. Now as an older man I can only vicariously live that through my imagery and the experiences I write about. It's like now I am on a different kind of ride, equally as exciting and intoxicating. But it feels like the last 10 years I somehow got off the streetcar at the wrong stop and ended up in a different and strange new place. The past ten years, psychologically, felt as if I had been spiraling into an unknown oblivion finally reaching the bottom at the beginning of this year as I hit the pit of despair witnessing the passing of my prime moving into middle age, rapidly approaching fifty.
Today I stand on the rampart of something extraordinary. Yet it's an extraordinariness that I have always known and somehow felt was present. Perhaps it is all the sex, fear, anxiety, insecurities and anger that masks and keeps the true nature of our selves hidden so we can't see it. And I have to question this morning where would I be today if perhaps I had not made this leap and come on the journey of this year. My desire has changed and so have I. I take delight in that thought and that maybe that streetcar, though still functional, just transports us to new neighborhoods, perhaps we just need to get off and explore.