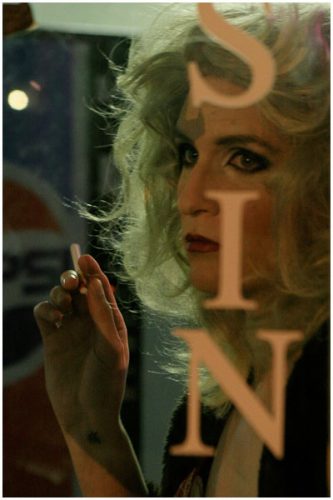 Rus was my creative soul mate. He is a writer, teacher, and creative make-up artist who was also a model and test subject for me. We spent a great deal of time working on some of my favorite projects. One of our best shoots was exploring issues I had with a grandmother I didn't know well. She killed herself when I was a very young. I found this old laundromat in Butte, Montana. Butte was a booming cooper-mining city some 100 years back that dried up and is now a hollow shell of those glory days. Anyway, I had this shoot in my head for a long time. Glenn was going to school in Butte at the time and Rus was just passing though on his way to start a new life and we ended up in Butte together one night. We rushed to Wal Mart for the perfect attire, distressed it off the grimy streets and began to shoot. It was a blast. There was an old gay hanging out in the laundromat that kept trying to pick up Rus because he thought she was so beautiful. You have to know that Rus in about 6'5" and when he adds heels and a wig his one tall gal. Here is what I wrote after the shoot and if you want to see more images on this series there is a link on the side. Still have difficulty figuring out the link thing on here. Just a note that Rus used this image on the cover of his first book of short stories called "I Had Mourned This Already and Other Stories"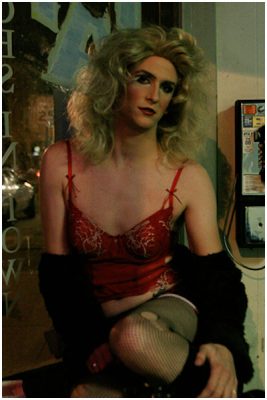 Images of my Dead Grandmother
I never really quite knew her, but have a vague recollection of her warmth toward me. Yet I feel like she has been one of the most influential people in my life. She died when I was a three. She spent her most of her life living on the fringe of desperation, an outcast far ahead of her time, destroyed by the culture that surrounded her. She grew up in an ultra Christian house, where her cotton farm foreman father, (who shot a black man for crossing their front porch on night), molested and repeatedly raped her while her mother looked the other way and condemned her to hell. He was a very hard man and she married young to my grandfather to escape him. I believe this was the only true love and happiness she experienced in her life, she become the quintessential housewife and had finally settled into a life of "normalcy". He was killed on his way back from World War II in a freak car accident where he was going to tell her he had met some one else and wanted a divorce, something that would haunt her the rest of her life. She spent years at the bottom of a barrel, drinking, working as a prostitute, and sleeping her way from man to man. Always running, dragging her children with her, always desperate. She had two children she tired to kill several times in fits of drunkenness, by pushing them out of windows and leaving them abandoned with strangers most of the time. She was in and out of the state mental hospitals. Finally she was pulling her life back together, sobered up, met a man she married and began to settle down. I have been told I was her greatest joy. But something happened one night that drove her to the ultimate act of desperation as she took a pistol and shot herself in the stomach. She died on the way to the hospital. I often try to imagine what was going through her head that one night.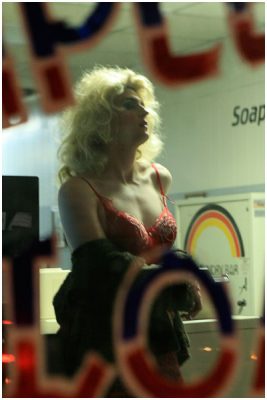 I have always felt I was different, living on my own edge of desperation, gay, addicted to sex and drugs, hustling myself; lost in the night, drifting. Sure I was not going to make it to my 30th birthday. Was it hereditary? Was I destined to follow the same path? Though I didn't really know her did she somehow depart her desperation on me? There has always been a bond that ties me to her. Recently I turned 42, which was the age she died, it was a very eerie time. It defiantly messed up my mother. She never got over it.
I had seen this laundromat years ago in Butte and every time I passed these windows I would see my dead grandmother hanging out in there. I have been trying to come up with a way to capture the essence of who she was and what she felt. With the help of my friend Rus Buyok I have finally been able to realize, my own feelings, anxieties, and emotions and in a way represent what she too must have gone through.
"She was happy, and perfectly in line with the tradition of those women they used to call "ruined," "fallen," feckless, bitches in heat, ravished dolls, sweet sluts, instant princesses, hot numbers, great lays, succulent morsels, everybody's darlings . . . "
— Jean Genet (Querelle)