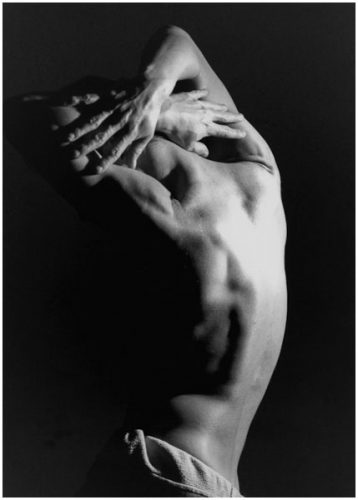 The first image I have chosen for the portfolio is called "la danse lumière" the dance light. I was just beginning photography and this was the first real nude shoot. Darrin Eastwold was a dance instructor at the University. We had worked on several projects together and he was somewhat intrigued about me becoming a photographer because he knew of my fascination with theater and light. This shoot was probably one of the most awkward shoots of my early days. It was the first time I actually attempted to sculpt a subject with light. I was just starting out and did not have much equipment at the time. This was lit with a single Lowel Pro light. I didn't have any kind of workspace at the time so we went to his apartment, which was a dilapidated old building I was actually surprised someone would be allowed to live in. We removed all of his furniture and rolled up the rugs so we just had a bare space. I wasn't quite sure what I was after and had great difficulty communicating with the Darrin. He wanted all this elaborate movement stuff and I only had two dinky lights on stands to work with. Overall the shoot turned out to be a disaster, he became impatient and difficult. I had no real vision or concept and couldn't really visualize what I was doing at the time because I was shooting on film with no point of reference. We both came out of it feeling discouraged and disappointed. Several days later when I processed the film and printed the contact sheets, this image leapt out from all the rest. I began to focus on this single image and printing it to heighten the almost blown out highlights and bring up the almost too dark shadows. Suddenly the image began to emerge and I remember becoming very excited by it. I spent an entire day printing this one image. It was the first time I became completely captivated by how beautiful the light shown on the silver gelatin paper as it glistened in the water. I knew this was a print I would cherish and so printed about ten copies of it. The remarkable quality of it didn't really stand out until the image was matted and placed into a black frame. It also becomes the first image I ever showed in a public exhibition and was used as the promo image for that collective group show. I have given this image to many of my friend for birthdays and special occasions; I have also given it to various fundraisers across the country.
I chose this image for its simplicity in form and sculpture. This truly captures the essence of where my work would eventually go. I love this image and it will always remind me of that first spark of excitement in photographing the beauty of the male flesh. It is my first endeavor to merge the two passions of my world of theater with the nude male form. To me, it still stands out on a wall and I am still thrilled to see it hanging in friend's houses. Today is dedicated to you Justin for your support of my work and for allowing the image to shine for so many years in your presence.
I am still looking for help with the Kickstarter project to get my images into a show or publication here is the link: THE NAKED MAN PROJECT: IN SEARCH OF EXPOSURE. Remember I will only get the funding if the entire goal is pledged. Even small contributions help get me closer to that dream. Thank you for your support.