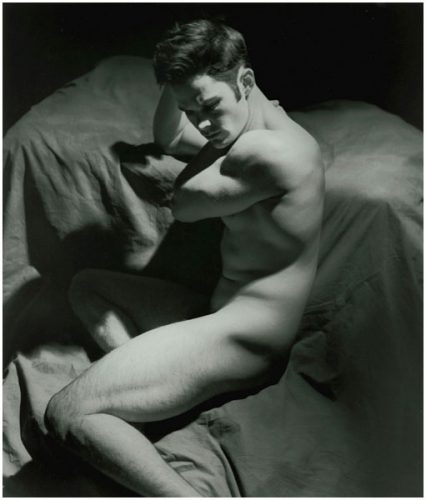 The second image in the portfolio is called "Lying Torso". I had photographed a dance piece at the University loosely based on the eroticism of the Dracula myth, and was captivated by the lead dancer: a kid named Ken White. I invited him into my studio, somewhat reluctantly because of the awkward experience with Darrin, and he accepted. We hit it off instantly and began to work on a series of images over the course of the next year or so. I had finally gotten into an old painters studio (owned by a friend), cleaned it out and converted it into a photo studio. The studio had a bank of north facing skylights, perfectly designed for the most extraordinary natural light that I began to work with and learn to use in my imagery. I had also accumulated a few more lights, building on the Lowel hot light system that had a very theatrical feel to it. These became my staple method of lighting as I began doing a lot of headshots. "Torso Lying" was created with a single Omni light, hung on a boom above the subject. I had a scene designer from the University paint some background and drop cloths for the studio, which I draped over a bunch of platforms set at varying heights.
Ken was really the first subject I consistently began to work with in exploring this new space. I knew that I wanted to somehow photograph Ken nude, but it took me months to build up the courage to ask him. He had a girlfriend, and oddly enough lived half a block from where I was living at the time. He being a straight man created a great reluctance within me to ask him to work naked. I battled a great deal of internalized homophobia that seemed to take a long time to overcome. I had been studying the male nude for a long time and had the greatest desire to work in this arena, but didn't want to come off as a perverse homo who was lecherously after naked men. Somehow, in my mind, there wasn't anything really sexual about the images; it became more a study in form of light. But, psychologically, those fears were difficult to overcome. Most of the time, when we worked, we would study images of old photographers like George Platt Lynes and emulate qualities that we liked from the other artist. Somehow, I could never get to the natural beauty, or caliber of beauty, in the artistry of those great masters and would have to settle for something like this. In this manner I would eventually begin to see my own distinctive style begin to emerge.
This image represents a hallmark moment for me in my development. It's where I really began to pay attention to the line and geometric structure at the core of the image. The 'S' shape of the image is strong and draws my eyes into the beautiful movement within. With images like this, my gut impulse becomes strong. At the time, I knew the image was good, but was not yet quite sure why.
I am still about $800 away from reaching my goal on Kickstarter to get this project off the ground. I am now three weeks away from the venture and need to begin to pull it all together. I will rest more assured that everything I am investing into the project will somehow be covered. Any little bit helps. Thanks for your support.
Today's image is dedicated to Jay Womaldorf a very old and dear friend. Jay was an early supporter of my process, and saw in my what I was only beginning to discover for myself. He gave me a copy of "THE ARTIST WAY" that opened up my world to the possibility of becoming an artist. Thanks Jay.