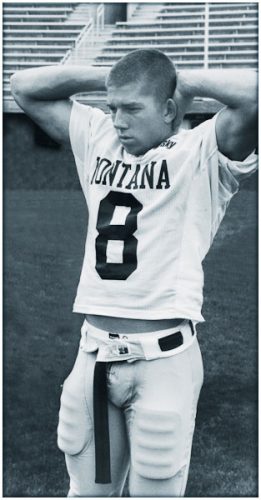 Today is Super Bowl Sunday in the USA. Where the two mighty North American conferences face off for the battle of the best. Today it's the Pittsburgh Steelers against the Green Bay Packers. But more importantly it is a long-standing tradition among many Americans to get together once a year and have a party with great friends. Many think Super Bowl Sunday should become a national holiday with the following day off for recovery. This afternoon the studio will be transformed to host to one of those long standing traditions as some of my best friends gather for exceptional food, drinks, games, and of course watching football.
I will have to admit I am not a huge football fan and don't really follow the season nor know what this clash is always about. But this is the only professional football game I watch of the season. I do enjoy football on a collage level and am an avid supporter of the Montana Grizzlies.
So many of you may be saying to yourselves how does a gay artist who has a passion for Caravaggio merge this connection to his homoerotic art. Football represents, at least for me, man in his barest, rawest form. The clash of bodies, will, and force to overcome obstacles and endeavor to persevere. In small mountain communities, where football is a dominant activity, football superstars become iconic heroes. They are often idolized for their masculine prowess; much like the Greeks recognized Achilles and Hector of The Trojan War from Homer's Iliad. They become symbols of purity, strength, power, agility, dominance and endurance. Where the beauty of this lies is in our cultural psyche that we want to emulate them. It becomes synonymous with a sort of immortality that we will be tenacious to overcome all hindrance of mind, body and soul. To me this is where the shear eroticism springs and becomes the object of my desire. Figure and form collide to become perfection and raise the mediocrity of my menial life to become a symbol of hope and glory. It is sensuality at the peak of perfection. The silhouette of a football players shape empowers me with the strength of his broad shoulders, tapered waist, and bulging muscles. I realize most of this is padding for protection, but also creates a fierce presence in the face of opposition. It is probably one of the sexiest forms of men's attire. Tight, sculpted, reveling the mass of quivering muscle contained within it. I do photograph sports, but it comes from another perspective, I see it more as an sculptural art of shape, form, and texture; the beauty of mass and form colliding, figures suspended in air as if in a dream or an ode to the heroes of classical mythology of days gone by.
Today is a tribute to Jimmy Farris. I took this image when he was a wide receiver during his final year at the University of Montana. A couple years later he went on the win a Super Bowl ring with the New England Patriots in Super Bowl XXXVI proving that some of us do step out of our humble surrounding of the mountains of Montana to achieve greatness. Always dream the dream, who knows where you might end up.