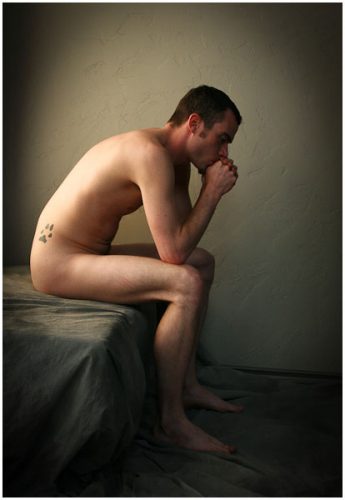 We have finally got the news that Man Art will be removed from the Internet within the next couple of days. Today I am filled with joy to look back and read all the comments on the work I submitted less than a year ago. I am eternally thankful for the amazing people I have met on this site and the encouragement you have given me to grow. Thanks for seeing things in me and my imagery that I couldn't, and for helping me to recognize it. I wanted to reprint my first blog I posted and on Man Art and some of the response I got to it. Thanks to all for believing in me and giving me the courage to create even in a remote place like Montana.
New Direction
* Posted by Terry J Cyr on May 20, 2010 at 8:36am
I moved in a new direction today. After months of frustration and now not getting the job at the University I am at wits end. Frustrated. It feels like the only thing I am good at is photographing men naked. I love this and feel I have amassed a huge collection of images over the year; that no one ever sees or appreciates. My new approach today was to begin putting myself out there and see if I can connect with other artists like myself and see if I can feel any kind of sense of place in the world I love best. Montana is not the hotbed of male erotic art. It's a constant frustration to find people who will ever work with me and allow me to photograph them. I am desperate for some new connection.
Bryan Spellman: I'm glad to have led you to Man Art. It's a great place with some wonderful men–most of whom seem to be far, far from us. But your own work is strong and I'm so glad you're sharing it. You deserve recognition for all you've accomplished. Missoula is a frustrating place. I can't even find guys willing to model for me in their clothing–let alone nude. Hang in there my friend, and let's do some art together.
Bruce Miller: I hope you'll find that here. I have! I also like your work and I think you'll be a good match. Welcome…
John Douglas: I hope this site provides some inspiration and support – and yeah the search for good models, even bad models can be frustrating at times – you start to see why many artists when they find a good model keep using that one. Best of luck, and I hope this is the beginning of a great new period in your art.
"The time has come
To go our separate ways
And it's alright if you wanna cry
Though I know we'll meet again someday
It's never easy to say goodbye"
Lyrics from IT'S NEVER EASY TO SAY GOODBYE by Kenny Chesney. Country Music just seem to be the right tone for today's topic.