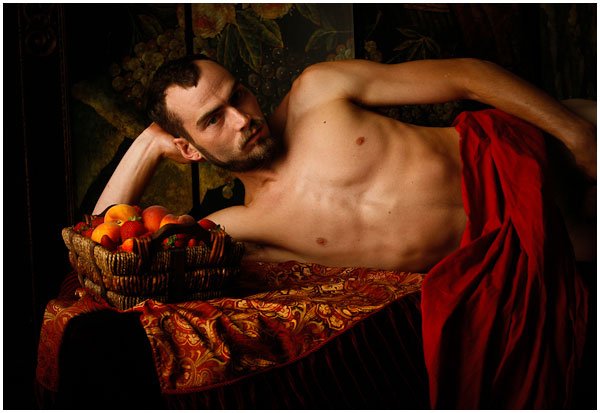 I always begin my day by logging onto this blog and reading others comments. This morning I see an amazing tribute given to me by a man named André in Lausanne, Switzerland who blogged about me in his blog Case des homes. The original text was in French, which I cut and paste into Goggle Translator to convert. I was overwhelmed to see such and hear such an in depth analysis of what I've been doing. Obviously André has been following my work very closely for quite some time, because he used quotes from my blog many months back. Thanks you André, I am greatly honored to see such a tribute. Today I feel that I have reached a new level of understanding of what this project is becoming. It has grown far beyond myself and my provincial home in the mountains of western Montana. I see how my words and images profoundly influence other people and the way they process and perceive gay culture from around the world. Here is a man who's translation of the heart of what I have to say, though it is not literally my words, through another language capturing the importance of my thoughts, ideas, and concepts breaking beyond all bounds of possible barriers. Lately I have been filled with doubt as to what I am actually doing, going on this adventure, searching for my own exposure. It was very uncomfortable for me to put the request out there on Kickstarter asking for help in such a manner and the response was amazing. So many people have come and pulled together to make this happen. It is now four am in the morning as I am up early trying to ready my mind for the transfer of time to another country and another time zone eight hours ahead. Last time I flew to Paris I was a young man with an idealistic dream in his head of learning about the origins of French Theater. Some twenty odd years later, I am embarking with another idealistic dream of departing my years of experience and knowledge between then in a new format that allows us to reexamine our lives through an art form. The first voyage was very naive and filled with innocence of a world I was passionate about, but didn't clearly understand. It is funny because here at another plateau of my life, still filled with passion, I still feel a bit overwhelmed with that naïve innocence once more, but this time instead of taking from the world it has become a reversal as I now want to now impart my insight upon that world.
Today I present the final image in the portfolio series. This image of Travis in my studio in so many ways represents the culmination of my skills and talent as a gay artist. I have taken an old form that I have loved and admired for decades and crafted into my own. I have given the modern gay man a glimpse into the heroic beauty from which he emerges. My skills as a designer, artisan, and craftsman are all present and accounted for in this image. It is the culmination of my life encapsulated and held within the frame of an image. The expression is of my own existence, thus becoming my own image of Dorian Gray. But this time it is not only the subject of the image that is captured but is now the artist behind the subject that is revealed. I now know and feel I am on the brink of something extraordinary. Thanks to all who have supported and promoted the project. I now see what it is becoming.
If there is anyone in France or Germany who can help me meet this goal, please contact me while I am there. I still need some help with possible places to stay or connections because I don't have all the pieces and can use any and all help to fill in the gaps and make this happen. You can reach me on my gmail account This email address is being protected from spambots. You need JavaScript enabled to view it.. I am also still looking for some last minute finical support as the plans have been changing and more then expected cost have arisen. Thanks you so much everyone I am on my way.
Google Translation:
These unexpected encounters that make you bare
In The Naked Man Project blog where he explores his desire of men and his way of expressing it, the photographer Terry J Cyr of Missoula in Montana describes her struggles and discoveries every day. Soon, he will visit Berlin to present his case to the publishing house that publishes Bruno Gmünder many photo albums on the splendor of the male body, guides and magazines such as Spartacus. [The Governing Mayor of Berlin Klaus Wowereit visited the other day to the publisher and its Gmünder hundred employees. He wanted to learn about their work and mark the tenth anniversary of the PACS German … Do you understand why I love and admire today's Germany?
Here are some photos of Terry J Cyr, 50, and an excerpt from his note of February 11 titled Tapping the Raw Sensual Intensity (Extract intensity sensual thought). The story takes place in his youth, when he was a bartender in a gay club in Washington.
The "Parties": each eye is different.
"One evening while I was returning after visiting friends, I was badly caught in a dangerous neighborhood where even taxis refused to come. I had to walk four blocks away, in a neighborhood where a reigned noisy sex with hundreds of streetwalkers. A very young woman approached me, his eyes fixed on mine and saw the despair of his soul. I wanted to get me out of fear that it consumes me, but stayed frozen in that look, fascinated and bewildered. She understood the story of my life, I was gay and had no money for a pass, without wasting time, she turned to another man with the same intensity. "This is probably one of the most intense gaze of my life. The exchange lasted only a moment, few words were spoken, but we immediately saw the story of one of the another. The exchange has haunted me a good part of my life. He helped me in dealing with those around me. It is with this force that I approach the shooting sessions, the intensity that you can see in my subjects. I always ask my models to be in the moment: "So those who look at the image can read your thoughts, log on and find in them something that makes this picture alive. If you think your shopping list, they are not concerned with the image or you. "It reminds me of the porn industry today, no player seems to feel what he does. How do you want it excites me when you're not the same? Is the why people turn to amateur porn, sexy and more popular, because it shows the reality. I put the same intensity in my work, I connect to my own sensuality so it resonates with the other. "
André